Tour Prices
Nature Trail's tour prices are competitive and listed on a per guest basis in Australian Dollars.  GST tax is excluded since Nature Trail is not registered for GST.
These prices vary according to tour type, duration, focus, any extra features and provisions provided and vehicle tag-along option.
We always pre-quote the total tour price at the time of booking which is a fixed price, so there are no additional costs during or after the tour.
Tours that include 2, 3, 4 guests are charged the same tour price per guest when transferred in our 5 seat Range Rover tour vehicle.  An additional 5th and 6th guest transferred in a suitable tag-along vehicle by guests themselves each receive a tour price discount per guest of 30% accordingly.
Nature Trail is also flexible to accepting one solo tour guest on a given tour.  In this case our policy to ensure the tour be commercially viable, indicatively we charge a solo guest at a rate 1.5 times the standard price per guests numbering 2 to 4.
IMPORTANT:
Please read our Pricing Policy at the bottom of this page
Hiking Tours

(Includes our bespoke Range Rover transport service from and return to Katoomba Railway Station)
Short Hiking Tours (2-3 hours):

Jamison Valley (Katoomba) $70
Jamison Valley (Wentworth Falls)  $90
Grose Valley  $120

Half-Day Hiking Tours (3-4 hours)

Jamison Valley (Katoomba) $90
Jamison Valley (Wentworth Falls)  $100
Grose Valley  $150

Full-Day Hiking Tours (4-8 hours):   Jamison Valley $150  |   Jamison Valley (Wentworth Falls)  $150   |   Grose Valley  $150
Wilderness Experiences
Half-Day Tour (3-4 hours):    $100 per guest

Full-Day Tour (5-8 hours):     From $300 per guest

Nature Workshops
Tour Type Brief: (TBA)

Nature Workshop Tour (2-3 hours):          $90
Nature Workshop Tour (4 hours):           $120
Guided Gardens Tours

Tour Type Outline:  (TBA)
2x Morning Guided Gardens  (Expert Guided Everglades + Leura Mystery Garden)  (3 hours):   $160 

2x Morning Guided Gardens + Leisurely Café Lunch + 1x Afternoon Guided Garden  (6 hours):   $300

Blue Mountains Village Tours

Tour Type Outline:   We drive you and street walk with you each respective village.  Our our Director has lived in the Blue Mountains for 20 years and has deeply researched each village.  We deliver researched commentary focusing on high street features, village history,  built heritage, fascinating historical tales, contemporary news; plus local insights into attractions, shops, galleries and eateries.  Ad hoc questions are most welcomed during the tour.
Katoomba Village Tour    $40
Leura Village Tour     $40
Medlow Bath Village Tour (includes Hydro Majestic)     $40
Wentworth Falls Village Tour     $50
Blackheath Village Tour      $50
Mount Victoria Village Tour     $50
Old Hartley Village Tour      $60
Backroads + Heritage Tours
Tour Type Outline:   (TBA)  Country Road Touring beyond the Blue Mountains into the Central Tablelands countryside taking the backroads less travelled and calling in on welcoming rural locals.
Full-Day Tour (includes gourmet catering)  $250
Arts & Craft Trails
Full-Day Tour (includes 6 galleries, gourmet catering, extras)  $250
Extended Driving Tours
Guest Transfer Fees:
With prior arrangement at the time of booking, we offer an extra service to collect and return our guests to/from our Tour Meetup Location, typically Katoomba, from/to anywhere in the Upper Blue Mountains (between Wentworth Falls and Mount Victoria).
Our Guest Transfer Fees are set according to the dedicated time involved.  Fees are on the basis of each specific transfer location, not per guest per se.  So for instance, if there are four guests requesting transfer from one specific location in Leura to our Tour Meetup Location in Katoomba, the total transfer price is $10 for all four guests from their accommodation before the tour, then $10 for all four guests back to their accommodation after the tour.  A separate et
Guests may arrange for transfer pickup and drop off to any place of their choosing, not just at their accommodation, solong as the location is between Wentworth Falls and Mount Victoria, safe and accessible.
Katoomba  $5
Leura  $10
Medlow Bath  $10
Wentworth Falls  $15
Blackheath (central)  $15
Blackheath (outskirts)  $20
Mount Victoria  $25
Our Pricing is more reasonable than taxis fares.  And note that if the booked tour involves us travelling through one of the above locations, then our Guest Transfer Fee is a flat $5 per location, because we are not going much out of our way to collect/drop off.
Tour Catering Options
Lunch, morning tea, afternoon treats.
NOTE: Catering is not available for 2-3 hour hiking tours, half day hiking tours, or Trekking Tours
Guest Day Pack Hire
$30 per guest
NOTE:  this service is not available for Trekking Tours
Guest Vehicle Tag-Along
Accommodation Bookings Service for 2-Day and Multi-Day Road Tours
Particular to our 2-Day Countryside Indulgences or our Multi-Day Deep Country Escapes, at the time of booking any of these extended tours, we invite guests to discuss with us your accommodation style preferences.
Nature Trail's Tour Director, Steve and his wife, have over 20 years experience staying and then residing in the Blue Mountains Region and travelling and staying throughout the Central Tablelands westward.   We have stayed and got to know a variety of quality accommodation providers.  We shall be happy to recommend accommodation providers and to put our guests in touch directly with the owners directly.  We prefer to go direct rather than via online third parties.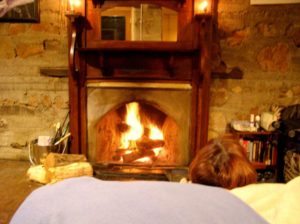 We believe that to best complement the quality experience of our extended tours, that the choice of style and the quality of accommodation truly enhances the entire experience.   In addition, we shall be happy to recommend to any of our guests and to would-be guests, the requested style of quality accommodation in the Blue Mountains and the Central Tablelands.
Simply phone our Nature Trail Hotline:  1300 355 133
One of our recommendations is Rosebank Guesthouse and Art Gallery located in the historic colonial village of Millthorpe, particularly for those preferring old world charm and country hospitality.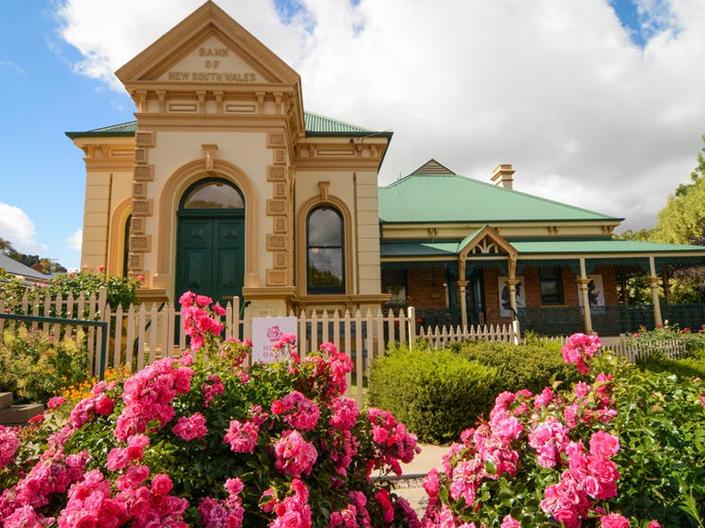 The official Rosebank website:   https://www.rosebankmillthorpe.com/guesthouse/
Tailored Charters
Choose from any of our tours or combinations of tours, or propose your own ideas reasonably within limits and within the Blue Mountains and Central Tablelands region – we shall work hard to design and deliver the best possible
Pricing on Application
Pricing Policy:
Prices are per Tour Guest:  Our tour prices are per tour guest, on the basis of a minimum per tour of 2 tour guests and a maximum of 4.   Our choice tour vehicle is our customed-fitted P38 Range Rover 'Excalibur' designed for small group touring, including off road as required.  It comfortably seats 4 guests plus our Tour Director as tour leader and driver.  If the P38 is not available for any reason, we provide a suitable backup vehicle at a 20% discount.
Car Tag-Along Flexibility:  While our tour vehicle has capacity for up to 4 tour guests, we welcome an additional 2 tour guests to tag-along in their own car to join in our hiking tours.   For safety and National Parks protocol reasons, our hiking group numbers are restricted to a maximum of 6 tour guests under the guidance of our Tour Director.   For non-hiking tours we are more flexible and welcome up to an additional 6 tour guests to tag-along in their own car(s) to join in.  Such prior requests at the time of booking are mandatory.
Solo Guests:  We welcome solo guests on any of our tours, mindful that for any tour to be financially viable to us we charge an additional Solo Guest Premium.  This fee is based upon our dedicated time as follows:

Short Tour (2-3 hours)  Add $30
Half Day Tour  (3-4 hours) Add $50
Full Day Tour  (4-7 hours)  Add $100
Longer Tours  (Price on Application)
Still, solo guests truly reap an exclusive benefit by receiving a dedicated one-on-one personal and chauffeured service attention from our Tour Director throughout the tour.

All Tours are Prepaid:  We offer a choice of paying by VISA, MASTERCARD, AMEX, DISCOVER, PAYPAL OR CASH (Australian Currency).  We can arrange payment by email, over the phone, or if you have already arrived in the Blue Mountains then we can meet you in advance in person (Wentworth Falls to Mount Victoria) to answer any queries that you may have about a tour and to process your payment on the spot using our secure PayPal device.  We will email you a receipt at the time of the transaction.
Tour Extras such as Guest Transfer, Lunch, and Guest Provisions Pack are available for nominal additional charges.  Please notifiy us at the time of your tour booking, if any of these Tour Extras are of interest to you.
Tax Free:  We do not charge 10% GST (tax) because Nature Trail is not GST-registered.  This means that our guests already save 10% by booking a tour with Nature Trail. 🙂
AUD:  All tour prices are in Australian dollars.