Practice Trips
Ahead of Nature Trail making any tour available to the public, as a key part of our Tour Quality Assurance Policy, Nature Trail first undertakes a series of Practice Trips for each tour.
The series of Practice Trips process through distinct trip versions undertaken in order to fine-tune the ulimate tour design. This starts with first scoping the Tour Concept, followed by the initial field Scouting – evaluating route options, attractions, and undertaking commentary Research.
Once our Tour Director is satisfied that a proposed tour is worthy of having public appeal and being financially viable, a few Recces with a group are undertaken with trip journal notes taken and group feedback discussed. The final tour evaluation trip version before being offered to the paying public, is a Practice Trip , which seeks to emulate the desired standard of a Public tour deliver to commercial standard including adherence to the tour plan – transport route, hiking route, timing schedule, catering, site guide engagement if required, etc. Commentary and all Safety Briefings are also delivered by the Tour Leader.
This is an important part of our tour design process to enable us to maximise each tour's benefits and overall experience or participants. Preparatory trips enables Nature Trail to refine the tour delivery, identify any potential hazards and appropriately mitigate risks, before offering a tour commercially to paying guests.
We offer these Practice Trips exclusively to registered Friends of Nature Trail on an 'at cost' basis. Participants need only contribute to the nominal direct costs of a tour – such as fuel share, site fees, site guides, meals, and the like.
We undertake exploratory scouting trips, recces and practice trips extending throughout the Blue Mountains region and into Central West New South Wales beyond.  For safety, all Nature Trail hiking tours are strictly on-track.
The scope of our Practice Trips is varied with the range of tour types that we offer, namely:
Short Hiking Tours (2-3 hours)
Half-Day Hiking Tours
Full-Day Hiking Tours
Wilderness Experiences
Nature Workshops
Hiking Gear and Skills Training
Gardens and Nursery Tours
Blue Mountains Village Walking Tours
Backroads and Heritage Tours
Art and Craft Trails
Country Fairs
Countryside Overnight Road Tours
Participation on a Nature Trail Private Tour is available only to registered Friends of Nature Trail. To learn about registration please contact Nature Trail's Tour Director, Steve, for a chat on Nature Trail's hotline: Tel:  1300 355 133.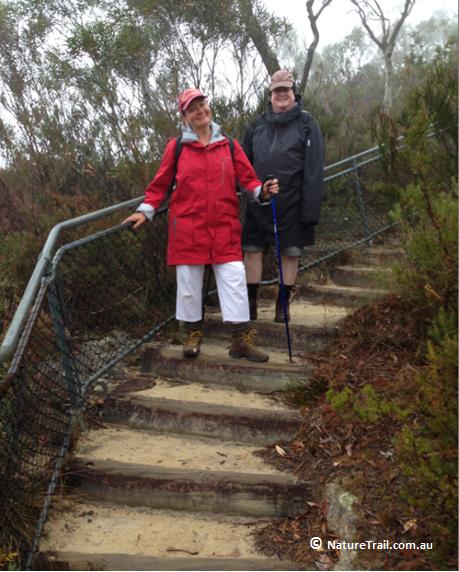 Our Friends give us a smiling thanks on one of our Practice Trips