Lithgow Tours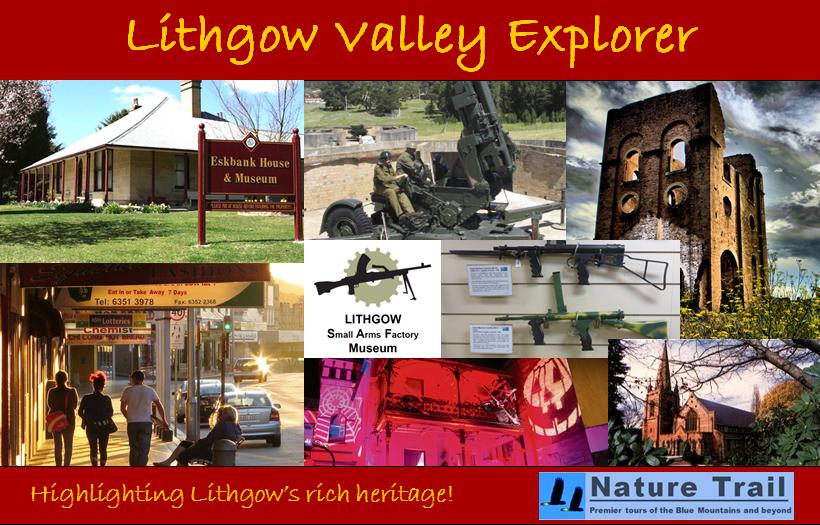 Enquiries and Bookings:            TEL:   1300 355 133
Tour Title:
'Lithgow Valley Explorer'

Tour Code:
BH-LVX

Tour Type:
Guided Tour (by bus plus escorted short easy walking)

Half Day and Full Day options:

Morning Tour     (4 hours)
Local caf

é

lunch options      (1.5 hours)
Afternoon Tour  (4 hours)
Reap your Lithgow Experience and book all the above!

Tour Overview:
Situated on the western side of the magnificent Blue Mountains, we explore the Lithgow Valley's many yet little-known attractions.

We showcase Lithgow's industrial heritage and the beauty of the hill enclosed valley.  We provide relaxed time to indulge, to shop  and to chat with locals.

Morning Tour Attractions
(4 hours):

Lithgow's Mine Manager Mansions & Miners' Cottages
Prisoner of War Memorial Lookout over Lithgow
Queen Elizabeth Park – local musician performance
Hassans Walls Lookout – spectacular 270 degree vista
Bowenfels Gun Emplacements – with commentary on Lithgow's defence heritage
Jannei Goat Dcairy – buy organic goat cheese
Mt Piper Power Station – expo on energy technologies
Lithgow Maximum Security Prison – close up, but not inside
Secret Creek Café and Wildlife Park – rare and close up
Lithgow Backstreets – meet the locals.

Lunch Choices (Noon – 1:30pm)

Lunch Price:   $30 per person
Available from these participating locally-owned eateries:

Blue Fox Bar + Kitchen
Lithgow Workies
Onelia's Place
Pho 68
Tin Shed

Lunch must be pre-booked.

Generous main course servings, drinks not included.

Includes bus transfer to and from the eatery street front entrance.

Post lunch pre-arranged pickup times are SHARP.

Afternoon Tour Attractions
(4 hours)

Lithgow's Main Street – guided walk, shop (both sides)
Gang Gang Gallery (featuring premier artwork)
Eskbank House Museum and History Avenue
Lithgow Blast Furnace Historic Site – with expert local site guide commentary
Lithgow State Mine Heritage Park – with expert commentary on Lithgow's mining heritage
Old Zig Zag Brewery – takeaway sales available
The Great Zig Zag's – world smallest railway platform
Hoskins Historic Church and Gardens
Mort Street Heritage Buildings
Lithgow Small Arms Factory Museum

Tour Times:
Lithgow Morning Tour: 

Departs from Lithgow Visitors Centre:  8am SHARP!

Returns to Lithgow Visitors Centre:    12 noon APPROX.

Lithgow Afternoon Tour:

Departs from Lithgow Visitors Centre:  1:30pm SHARP!

Returns to Lithgow Visitors Centre:      5:30pm APPROX.

Lunch Options (12noon – 1:30pm)

NOTE: Must be pre-arranged.

Lithgow Selected Eatery Participants (A-Z):

Blue Fox Bar + Kitchen
Lithgow Workies
Onelias place
Pho 68
Tin Shed

Includes transfers door-to-door to and from tour to eatery street front entrance. Pre-arranged pickup times after lunch are SHARP!

Tour Pricing

(per seat):

Morning Tour: $40
Afternoon Tour:  $40
Morning + Afternoon Tour (excludes Lunch):    $80
Morning + Afternoon Tour + Generous Lunch:  $100

Transport:
Transfers (pickup/return) available by prior arrangement from:

Upper Blue Mountains (Wentworth Falls to Mount Victoria – limited capacity 4 passengers)
Lithgow accommodation providers
Lithgow Railway Station (Railway Parade entrance).

A total (pickup & return) transfer fee of $10 per person applies.

Tour Inclusions:

New mini-bus tour service with safety belts, heating and airconditioning, nonsmoking of course
Qualified, experienced and friendly coach captain (our Tour Director) of 10+ years experience, and 20+ years local knowledge
Researched commentary providing researched local knowledge commentary of Lithgow and the Lithgow Valley, of its heritage, of visited attractions, of local stories and characters, plus helpful tourist information of the region.
Expert local site guides engaged at key attractions
Easy-paced allowing time to explore and ask questions.

Tour Agreement Terms:
This tour is subject to our Tour Agreement Terms.