Full Day Hiking Tours
For visitors keen to experience a greater variety of the magnificent Blue Mountains' natural landscape and having a good half day to spare, we offer a selection of Full-Day Hiking Tours.   The duration of these is between 7 and 9 hours each and allows for transportation time before and after from central Katoomba and return.
Our Top Four Full-Day Hiking Tours:
| | | | |
| --- | --- | --- | --- |
| Tour Code | Tour Title | Group Price | Click below for more Information |
| FH-BGF | Blue Gum Forest | $250 | Tour Flyer pending |
| FH-GCM | Grand Canyon Majesty | $250 | Tour Flyer pending |
| FH-NWC | National Wentworth Conservation Hut | $250 | Tour Flyer pending |
| FH-SME | Shipley and Megalong Expplorer | $250 | Tour Flyer pending |
And our other Full-Day Hiking Tours are just as great, but lesser known.  But we know them well.  Just ask us.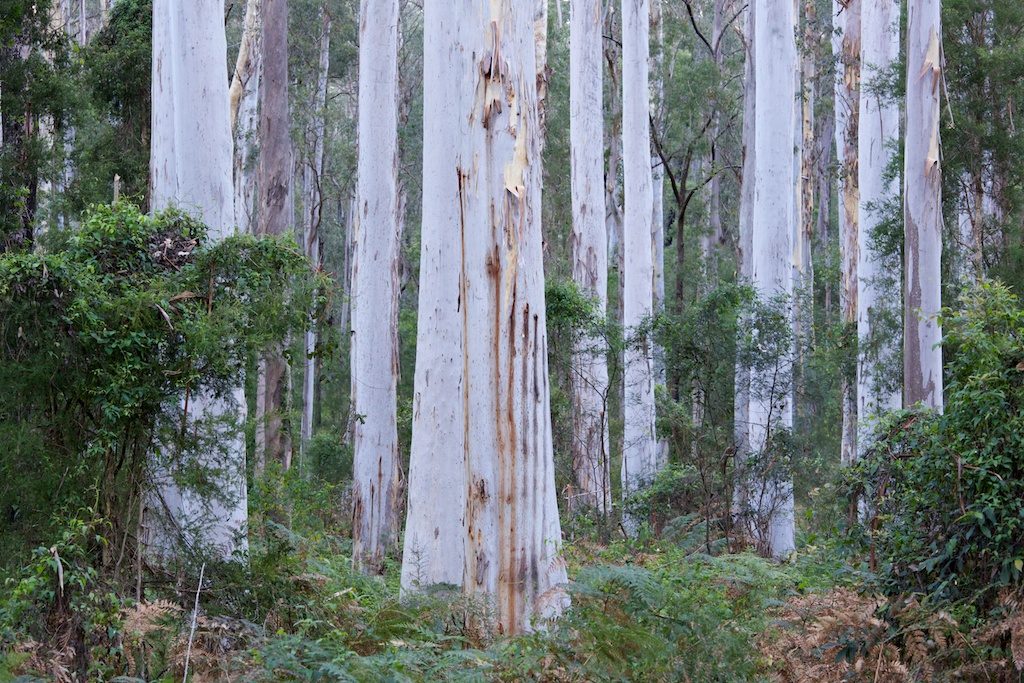 The Blue Gum Forest in the wild Grose Valley.  Photo by our friend and local professional Nature photographer, Paul Chantler
VISIT:  https://www.paulchantlerphotographer.com.au/
Our Full-Day Hiking Tour List:
(content pending)
Tour Benefits & Inclusions: 
(What you get for no extra charge)
A Professional Guide:  Your friendly Tour Leader and Guide is Steve, Tour Director and the business owner of Nature Trail, locally qualified and experienced in hiking tours.  Steve designs, plans, arranges everything and delivers the tour and drives the tour vehicle;
A Katoomba Local: Steve is a Blue Mountains local of 20 years, based conveniently in Katoomba in the heart of the Blue Mountains World Heritage Area;
Quality Tour Delivery: Each tour is fully researched and then recently reconnoitred and interpretative commentary updated by Steve before each tour offered;
Luxury Transport:  Upper Mountains transfers (Wentworth Falls to Mount Victoria) in the comfort of our classic Range Rover, complete mod-cons at no extra charge;
A Professional Driver:  Steve is experienced in off-road 4×4, double decker coach captain, commercial helicopter pilot, commercial coxswain, etc, so you're in safe hands;
Tour Guest Guidance: Ahead of every booked tour, Nature Trail's operational policy that for maximum safety we email you our professional guidance about what to expect – the currently Environmental Conditions/Limitations, What to Wear, What to Carry, and any relevant information about the forthcoming trip;
Tailored Commentary:  Our interpretative knowledge to suit special interests;
First Aid Qualified:  On every tour we responsibly carry a Remote Area First Aid Kit (fully maintained) with Remote Area First Aid qualifications and training;
Trip Notification:  For each remote area trip we lodge a detailed route/schedule/kit/guest manifest information with the appropriate authorities in case of emergency
Emergency Communications:  On every tour we responsibly carry a smartphone, satphone (Telstra/Iridium network), a personal locator beacon, and remote patient survival kit
Up-to-date Local Information: on local eateries, attractions, special activities, shopping, what's on, entertainment, hire car/quality Uber drivers, day spas, travel guidance, etc.
Alternative Tour Options:  In case of bad weather or unforeseen access closures, we have the knowledge and flexibility to quickly switch to safe and exciting tour options to suit
Appropriate Licensing and Accreditations
Public Liability Insurance
Best Pricing – we challenge you to find a better priced commercial tour in the Blue Mountains [Check out our Tour Pricing]
Tour Durations
From our base in the township of Katoomba in the heart of the Blue Mountains World Heritage Area we have ready access to a variety of hiking tracks in both the Jamison Valley area adjacent as well as to the Grose Valley area, just 20 minutes' drive away.
The duration of each of our Full-Day Hiking Tours vary by tour and are generally between 7 and 9 hours each, which includes the actual hiking component, breaks and allowing for time for us to transport you from Katoomba and return to the hiking starting point.
Our less extensive hiking tours are either Half-Day in duration or Short Hiking Tours of about 3 days in duration.
Tour guests requiring transfers from their stay or their chosen pick up and drop off points will need to make pre-arrangements with us, so that we have extra transport time for this service.  Our transfers are limited to the Upper Blue Mountains.
Transport
We provide transport for our tour guests at no extra charge on all our Hiking Tours from our nominated Tour Meetup Point situated in central Katoomba and return to our Hiking Start Point.  We inform you of our nominated Tour Meetup Point exact location in advance upon confirmation of your booking with our receipt once you have paid your tour booking in full.
Our transport of choice is our dedicated tour vehicle is our luxury 4×4 classic Range Rover which has seating capacity for up to four tour guests, plus our driver (who is also your Tour Leader).   This specific transport service is included in our tour pricing.
Additional numbers (that is any 5th and 6th tour guests) will require contacting us well in advance so we can advise about your group making prior arrangements for a second vehicle to enable a vehicle tag-along convoy arrangement – either by utilising the group's nominated vehicle or else hiring a car locally in Katoomba.  In such circumstances, we waive the tour fee for the group's nominated driver of the second vehicle, and we discount the tour price by $50 for the 5th, 6th tour guests transported in the second vehicle.  This effectively reimburses your group for any car hire, expenses, inconvenience.  We think this is fair, and unlike our competition we choose not to travel by mini-bus.
Transfers from your Upper Mountains Stay
Our Tour Guests requesting vehicle transfers from either your Blue Mountains Stay or your chosen pick up and drop off points in the Upper Blue Mountains will need to make pre-arrangements with us, so that we can allow extra transport time before and after the tour for this service.
Nature Trail extends this service to the Upper Blue Mountains area – being generously from Wentworth Falls to Mount Victoria.  We cannot extend this transfer service beyond this range due to both time and cost restraints.   We do not travel to Sydney.   Instead, we always recommend visitors to the Blue Mountains take the train Katoomba Railway Station, where we will be happy to collect you, by special prior arrangement.
Tour Price
Nature Trail offers a highly competitive flat fee for each Full-Day Hiking Tour of just AUD$250 per tour group.
We are comparatively low in price because we can be, since we operate out of our home premises in Katoomba, so we pay no commercial rent or outgoings, and we don't employ staff so we have no wages expense.  We do not charge GST (tax) because we are too small for government to require us to pay its tax.
All tours must be fully prepaid to secure your booking.  Payments must be received as clear fund in our bank account no later than 24 hours before the tour start time.  We accept payments either by bank transfer to our business bank account, or by credit card, and we accept VISA, Mastercard and AMEX.
Tiny Group Sizes
Tour guest numbers may vary from just one solo participant up to a maximum of 6 participants, for reasons of hiking safety.  Small numbers also allows us to make the tour personable.  Throughout our tours we frequently engage with each tour guest on a one-on-one basis which we find helps to make the tour that much more special and rewarding experience.
Tour Route Availability
Each tour is subject to the route availability as provided by government, which can change like the wind at times.  We have to monitor the government notifications of track closures regularly.
Provided the route is fully open and we have the time available, we shall be happy to accept bookings up until 12 hours before the requested start time.
Tour Bookings
Bookings for tours are best made as early as possible in order to secure your preferred dates and time.  Ideally this should be months in advance and made at the same time that you secure your accommodation booking in the Blue Mountains.
Our operations policy requires that each participant must individually first agree to and sign our Tour Agreement before being included on any tour.
Tour booking confirmation is only secure after we have received cleared funds prepayment in full.
Tour Grades
Nature Trail uses the Australian Walking Track Grading System as follows:
Grade 1:  Easy (Disabled access)
Grade 2:  Easy
Grade 3:  Moderate
Grade 4:  Moderate to Difficult
Grade 5:  Difficult
For detailed explanation about each of these track grades, please click on the following external website hyperlink:  https://www.nationalparks.nsw.gov.au/safety/bushwalking-safety/australian-walking-track-grading-system
Further Information
Our options for Half-Day Hiking Tours include rainforest walk in the Jamison Valley, as easy hike to the iconic Three Sisters natural rock formation, down and back up the famous Giant Stairway, easy hikes to accessible waterfalls, clifftop hikes with magnificent awe-inspiring vistas.
[NOTE: We use the term 'vistas' to best describe magnificant views from lookouts and vantage points – all safely fenced]
We also recognise that some prefer to just have a taste of what the Blue Mountains has to offer, and perhaps are not super fit and so prefer to just sample a few local sights and experiences without undue exertion.  We are happy to suggest a suitable tour accordingly.
We are Blue Mountains locals and know the special features and experiences enjoyed by visitors.  Further, we will go out of our way to design, plan a deliver a tour to best suit your expressed interests, preferences, abilities and timeframe – we relish such challenges, gets us out and about to showcase the best of our Blue Mountains.
Yes, we continue to operate despite the government rolling lockdowns, so please phone us to enquire about our tours.
Within Australia phone us toll-free on 1300 355 133
Outside Australia, please fill in the following form, so that we may reply to you by email.
Thanks for taking an interest in the Blue Mountains and for visiting our website.
And if we can't offer what you want, we can recommend a local that likely can.
Enjoy your stay in to the full.
Steve, Tour Director & Business Owner
This webpage updated 2nd January 2022.