After Your Tour?
And frankly nearby on the adjacent hill so is Katoomba's diverse high street: Katoomba Street:
Local Knowledge:  After your tour with us, and once you're back at your lodging and have comfortably freshened up, we suggest you consider the following to complement your Blue Mountains' experience.
Shopping & Dining
Take a stroll up and down Leura Mall and as each local shop takes your fancy, walk in.
Leura Gourmet is an established local eatery and also more recently The Bunker Cafe Bar and Restaurant up on the hill just past the railway station on the left.  It's set in a  wonderful Federation period house with a wide covered verandah and surrounded by a large garden.  There's a taxi rank right by.
Both eateries have district views over Leura and towards Katoomba.
Here are the contact details:
Leura Gourmet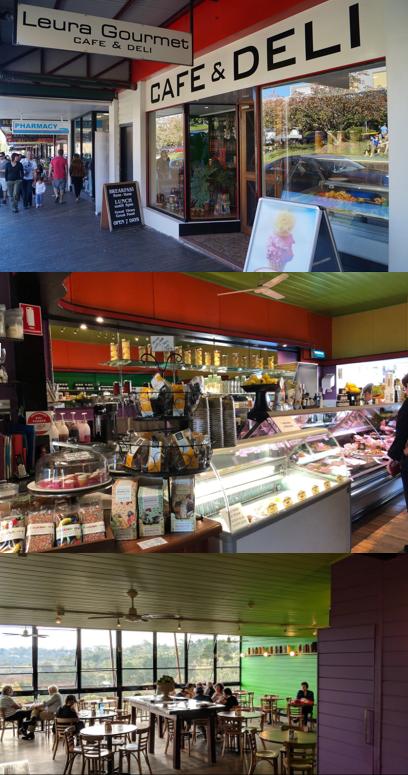 The Bunker Café Bar Restaurant
A: 117-121 Leura Mall, Leura NSW 2780
T:   4784 3265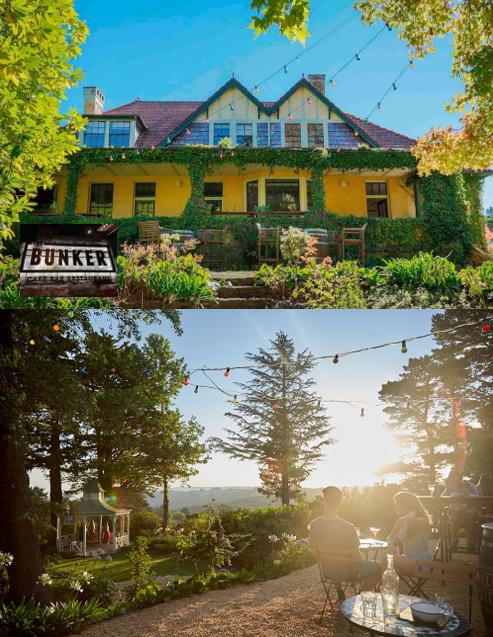 Entertaining Village Walking Tour
We highly recommend an outing.  Check out this informative and entertaining local guided walking tour of Leura or Katoomba (just 1.5 hours out of your day).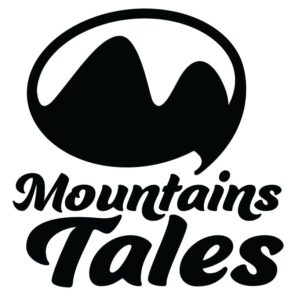 Contact Leura local Sue of 'Mountains Tales' and check the reviews on Facebook:
https://www.facebook.com/MountainsTalesNSW/
Body Rejuvenation
For those who have just completed a hiking tour with us, particularly a long one, after freshening up you may still feel a need for a good session of wellness rejuvenation.
We suggest the following local day spa, massage and wellness centres:
WENTWORTH FALLS:
APEX Remedial and Sports Massage
A: Suite D/191-193 Great Western Hwy, Wentworth Falls
T: 0466 275 506
LEURA:
Ubika Day Spa Blue Mountains
T:  4785 0000
A:  Fairmont Resort & Spa, 1 Sublime Point Road
Leura Massage
1/165 Leura Mall
Tel: 0426 543 688
Hamilton Spa Blue Mountains Day Spa
Leura
Tel: 0435 058 848
Massage Blue Mountains
14 Grose Street, Leura
Tel: 0405 508 904
Awen Natural Therapies
W: http://www.awennaturaltherapies.com.au/
A: 42 Rawson Parade, Leura NSW 2780
KATOOMBA:
Apsara Day Spa Katoomba
T: 0405 050 898
A: 40 Catalina Avenue, Katoomba
Spa Sublime, Blue Mountains Day Spa
A: 9 Penault Ave, Katoomba NSW 2780
T: 4782 3113
W: https://www.spasublime.com.au/
Gaynor Jones Therapeutic Remedial Massage
Katoomba
T:  0408 669 801
Lilianfels Spa   [Escarpment Day Spas]
W: https://www.lilianfels.com.au/day-spa
A: 5-19 Lilianfels Avenue Katoomba
T: 4780 1200
Escarpment Day Spas
W: https://www.hydromajestic.com.au/day-spa
A: Echoes Boutique Hotel & Restaurant, 3 Lilianfels Avenue, Katoomba
T: 4782 1966
BLACKHEATH:
Escarpment Day Spas
W: https://www.hydromajestic.com.au/day-spa
A: Parklands Country Gardens & Lodges, 132 Govetts Leap Road, Blackheath
T: 4787 7211
The Male Spa Blue Mountains
A: 104 Wentworth Street Blackheath
T:  4787 5705
Nature Trail as a local tour operator in the Blue Mountains supports the 'Love Local' shopping campaign by government that encourages both locals and visitors alike to shop locally.
We understand that the government campaign is intended to boost revenue toward our local business community to help stave off the spate of business closures, though caused by government-caused and imposed socio-economic lockdown.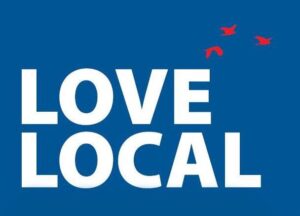 A Night-Lit Waterfall Walk
The Blue Mountains now offers a restored night visitation experience to visitors to view Katoomba Falls at night via a safely lit boardwalk and LED lighting between dusk and 11pm every night.  The 1.3km walk is in council-owned Katoomba Falls Reserve and was constructed over 6 years following a bush arson incident by a deranged local man who destroyed the old track and the surrounding native gully surrounding Katoomba Cascades.
The new boardwalk and concreete pathway opened in June 2021 during the government's pandemic lockdown during which all visitation to the Blue Mountains had been declared illegal with a $5000 fine threatening transgressor – thats' each!
The walk is safe for families and is designed for walkers of all ages and abilities and offers an exciting night-time viewing experience of a section of the extensive Blue Mountains escarpment cliffs and includes renowned natural features such as Orphan Rock, Witches Leap, Katoomba Falls, Katoomba Cascades, and from certain vantage points, of course the iconic Three Sisters.
Access is best via Katoomba Falls Kiosk along Cliff Drive in Katoomba.  The walk duration is about half an hour, not including the time to stop and admire the vistas.  We  recommend all visitors don a working headtorch for added safety.