FAQ
(Frequently Asked Questions)
DESTINATIONS     Where do our tours go to?
Nature Trail explores the Blue Mountain Region and beyond into the Central Tablelands of New South Wales.  These are our regions of special insight, experience and local knowledge.  They are reasonably accessible to us to offer as walking tours.
Our tours are focused on outdoor walking at a physical yet relaxed pace, and can include sightseeing bushwalks, forest bushwalks, heathland clifftop bushwalks, walks into deep gorges, rainforest, wilderness bushwalking, and local heritage walks.
Other tours focus on special interests such as birdwatching, ecology, local events, private gardens, nature photography, and even bush teaching tours.  We are flexible to consider your special interest.
Contact Us to enquire specifically.
FITNESS LEVEL    How strenuous are the walks and how fit and healthy do I need to be?
As a bushwalking tour operator, we logically require all participants to be healthy, fit and able-bodied.
Bushwalking inherently involves walking in the natural environment where often the footing is uneven and can involve steep climbs and/or descents and many steps.  And although the actual walking pace will be reasonable it can still be quite demanding at times, depending upon the walk grade, weather and walking conditions.
Therefore, if a number of people are to participate in and enjoy a walk it is crucial that every member of the group has a relatively high standard of fitness and does not suffer any general health disabilities.
Each tour brochure and itinerary advises the standard walk grade, forecast weather and walking conditions for a given walking tour.
Suitable physical fitness: regular daily walking, running or cycling for at least a few kilometres at a time, preferably including up and down hills.  Your leg muscles in particular need to be in a healthy and fit condition.
General health disabilities: this could be any condition for which strenuous exercise during a walk might pose a risk. It would include many physical disabilities, any heart conditions and certain other medical conditions or medical treatment. If in doubt, ask.
LOCATION    Where is Nature Trail based?
Nature Trail is based in Katoomba in the Blue Mountains, 100km west of Sydney.
TOUR DATES
Our programmed tours operate each Wednesday and Saturday.  Otherwise, by special private request with 24 hours notice we can operate on other days at a premium.  Our tours vary by season and by event.
Please check our Current Tour Programme and our Future Tour Programmes.
Note that currently, we are operating in development phase and expect to be offering commercial tours from mid-2018.
BOOKINGS NOTICE     How much advanced notice do we need to provide to attend a tour?
Programme Tours:
We require as much advanced notice as possible. We operate fairly on a First-In First-Served basis until we have a maximum 6 approved and paid guest bookings on any one tour.  Applicants are welcome to register with us in the hope of a cancellation, with no obligation.
Applicants need to have agreed, signed and submitted a Participant Agreement form to us and have fully pre-paid for a tour on the day prior to any Programme Tour.
Standby Tours:
Our Standby Tours are basically our Current Tour Programme, in which we have a vacancy or cancellation to make up a maximum of 6 guests.
If you are interested in participating on a Programme Tour on a standby basis please Contact Us, advising which tour interests you so that we may obtain your necessary details and evaluate availability.
A Standby Tour still requires a minimum of 24 hours notice, in order for us to properly plan and prepare for a given walk in the interests of or guests' safety, enjoyment and comfort.
Tailored Tours: 
Outside our Programme Tours schedule, Nature Trail is pleased to provide pre-arranged Tailored Tours which are exclusive private tours, either a half-day or full day tour and tailored to suit a your requirements and desires.  On a Tailored Tour, you and your partner(s) are the only guests on the tour.
We require 24 hours notice to arrange this.  Nature Trail will have had to first approved applicants on the basis of having approved, received a signed Participant Agreement and received full payment from each intending participant on the day prior to the tour (24 hours notice).
CANCELLATIONS
Cancellations by Booked Guests
Nature Trail reasonably accepts guests advised cancellations when provided with advanced reasonable notice.
Consistent with current Australian Consumer Law, Nature Trail may charge a cancellation fee when such notice is either not provided ( guest fails to show) else the cancellation notice is less than 24 hours for a Programme Tour, or less than 12 hours for a Premium Private Tour.
Under the above scenarios, Nature Trail's Cancellation Fee is 20% of the full fee per cancelled guest, charged to the guest's booking credit card.
Trip Cancellation by Nature Trail
Last minute cancellations can occur due to unforeseen events beyond the control of Nature Trail – such as dangerous weather/conditions, vehicle breakdown, illness, etc.
In such a case, Nature Trail will immediately notify each booked guest by contact phone , explaining the circumstances, apologising and arranging a full refund promptly.
TRANSFERS     Do you collect and return participants to/from where we are staying or at nominated locations?
Yes, we provide a door-to door pickup and return service for our guests at no extra charge.  Our transfer range limit is between Wentworth Falls and Mount Victoria, so this includes Wentworth Falls, Leura, Katoomba, Medlow Bath, Blackheath and Mount Victoria.
Beyond this range, participants will need to make their own transport arrangements to meet up with our tours in a timely manner.   We encourage all our guests and visitors to the Blue Mountains Region to relax and stay locally overnight in order to appreciate a truly worthwhile Mountains experience.
We do not travel east of Wentworth Falls.  We do not travel to Sydney.
Prior arrangements can be made by guests for us to collect/return you to a railway station or to a safe pedestrian pick-up/drop off location.   Again, our range limit is between Wentworth Falls and Mount Victoria.
PICK-UP/RETURN TIMES
We advise our tour pick-up and return times to guests prior to each trip.  These are usually not flexible so that we keep to schedule.
Full Day and Morning-only tours:   Pick up times generally vary between 7am and 8am.
Morning-only tours:    Return times generally vary between 12 noon and 1pm.
Afternoon-only tours:  Pickup times generally vary between 12 noon and 1pm.
Full Day and Afternoon-only tours:  Return times generally vary between 4pm and 6 pm.
TOUR NUMBERS
Programme Tours are open to a mix of visitors from 2 persons to a maximum of 6, in order to ensure safety and provide a quality personalised tour experience for each guest.
If guests wish to arrange a premium private tour, please Contact Us and we shall try our best to oblige, tailoring a tour to suit your requirements and desires.
PRICING
Nature Trail offers the best quality personal tour experiences for the Blue Mountains Region and NSW Central West.  Reasonably, we are competitively priced.
Programmed Full-day tours:    $170 per person
Programmed Half-day tours:     $85 per person
Premium Private Tours Full Day (max/min 2 guests):   $200 per person
Premium Private Tours Half Day (max/min 2 guests):   $100 per person
All Full Day tours are inclusive of gourmet lunch, complimentary incidentals and some useful gear on loan and GST.  Sorry, we do not offer complimentary tours, discounts or concessions.
PAYMENT OPTIONS
All tours must be prepaid in full. Nature trail does not accept part deposits.
We prefer payment by VISA or MasterCard.
Sorry, we do not accept other forms of payment – AMEX, other credit cards, EFTPOS, direct transfer, cash, foreign currency, travellers cheques.
CATERING
All our tours are inclusive of catering that we consider appropriate to each given tour.
All tours that involve a bushwalk, include light trail snacks and bottled water.
Morning-only tours:     Morning Tea included
Afternoon-only tours:   Afternoon Treat included
Full-Day tours:            Gourmet Lunch included
Other times, we utilise and pre-book selected eateries.
TAILORED TOURS
Outside our Programme Tours schedule, Nature Trail is pleased to provide what we term 'Tailored Tours', which are exclusive premium private tours.
We can happily design either a half-day or full day tour to suit your requirements and desires.  On a Tailored Tour, you and your partner(s) are the only guests on the tour.
Tailored Tour numbers:  Minimum of 2 and maximum of 6.
Tailored Full-Day Tour:    $200 per person
Tailored Half-Day Tour:   $100 per person
We require 24 hours notice in order to be able to arrange a Tailored Tour.
A cancellation fee applies if given to Nature Trail in less than 12 hours notice.
TYPES OF ACTIVITIES
Nature Trail is expert in providing quality bushwalking and otherwise exploratory walking tours in our great outdoors, including garden tours and heritage walking tours.
Sorry, we do NOT offer overnight tours, camping, rock-climbing, abseiling, canyoning, four-wheel drive tours, horse-riding, winery tours, mystery tours.  There are fortunately, other local tour operators specializing in such activities.
CHILDREN and PETS
Nature Trail focuses on quality interpretative walking tours for adults interested in Nature and the best outdoor experience of the Blue Mountains.   For a number of reasons, including the nature of the walks and to better suit a homogenous group, Nature Trail walks are restricted to adults, i.e. a person aged 18 or over. Also, a person of advanced age might not satisfy some other conditions.
We do not permit pets on any of our tours.
SMOKING, ALCOHOL, DRUGS
Smoking, drinking alcohol or using illicit drugs are not permitted on any of our tours.
Nature Trail reserves the sole right to refuse or reject any participant from a tour, who is considered by the Tour Leader to be using or under the influence of any substance.
WALKING GEAR
The most important gear item for bushwalking and outdoor walking in general is appropriate footwear.  Participants must wear closed walking shoes with grip soles at all times while on tour.  When bushwalking, footwear must fit snugly and properly, ensure reliable sole grip and preferably provide ankle support.
Examples of Safety Footwear for Bushwalking


Examples of Unsafe Footwear for Bushwalking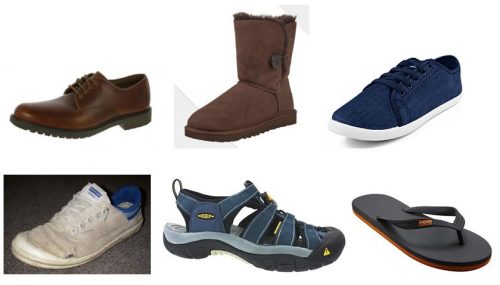 Inappropriate footwear used on bushwalking poses an unacceptable risk of personal injury to the wearer. So in the best interests of individual and group safety, it is a Nature Trail policy that any participant who presents for a tour wearing such inappropriate footwear or inappropriate clothing, shall be excluded from the tour by the Tour Leader.
Ahead of each tour we advise each booked participant of the forecast weather (including temperatures, rain and ultraviolet intensity), walk conditions, and the required gear and clothing to wear and else include in a day pack.  It is important that each participant complies with our advice and takes personal responsibility for his/her safety, welfare and comfort.
We also advise recommended gear and clothing for each participant to include on the tour.
An example list of the usual gear we REQUIRE each participant to wear/carry in a daypack is as follows:
Wear comfortable closed walking shoes/bushwalking boots and bushwalking socks
Wear suitable lightweight clothing for bushwalking
A day pack to contain:

1 litre of bottled water (more if hot conditions)
Rain jacket with hood
Broad-brimmed sun hat
Sunglasses
SPF30+ sunscreen
UV lip balm
Warm jumper
Woolen gloves
Woolen beanie
Any prescribed medication
Cash as advised
Trail snacks
Spare bushwalking socks
Mobile phone for emergency communications and great photos.
Inappropriate clothing for bushwalking are denim jeans, tracksuit pants, and long dresses.   Any participant presenting in such attire shall be excluded from a tour.   If in doubt please Contact Us at least 24 hours in advance.
POOR WEATHER
It is expected that a walk will commence and continue regardless of the weather conditions at the time. This could include fog, rain, or moderate wind conditions.
However there are five specific weather conditions that will likely cause a walk to be cancelled or aborted. These are:
Bushfire risk rated as 'Extreme' or worse, or an active bushfire in the region
Forecast risk of lightning strike
Forecast high winds gusting above 60kph, when clifftop walking is involved
Forecast or actual snow
Forecast maximum temperature above 35 degrees Celsius
Sustained torrential rain.
MULTI-LINGUAL TOURS    Are tours available in non-English?
All Nature Trail walking tours are delivered in English only.
For safety reasons, Nature Trail requires each applicant for any given tour to have a competent level of written English in order to comprehensively understand the terms and condition of the Participant Agreement.  It is unacceptable for anyone besides the tour applicant themselves, to in any way fill-in, have translated or someone else sign their Participant Agreement.
For safety reasons, Nature Trail requires each guest on tour to have a competent level of conversational English.