About Our Treks
Nature Trail's Treks involve advanced-skill hiking tours that extend beyond one full day's duration involving overnight bush camping, in which participants carry all they require by backpack under their own steam.
Typically our treks venture into serious remote wilderness of the Blue Mountains Region.
Trek routes are typically Grade 6 'Very Difficult', with track conditions poor, and extremely physically demanding.  Having said that, we do not push beyond 10km trekking per day, we safely trek only by day so safely focussing upon always completing the trek as a unified group, rather than trying to attempt arbitrary speed records nor compromise safety.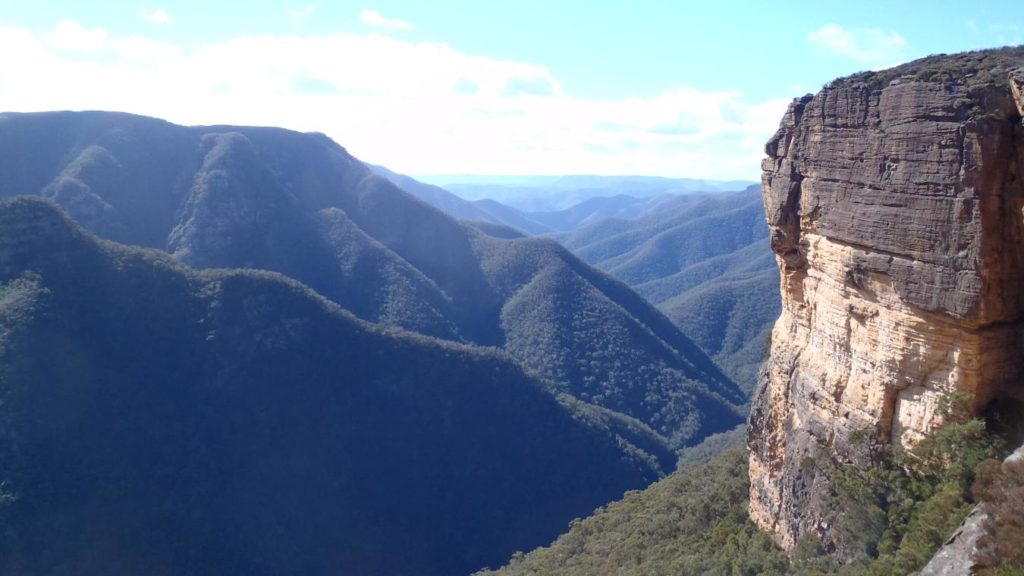 Nature Trail's Treks are seriously offered to only experienced, self-sufficient trekkers who have demonstrated advanced hiking skills, fitness, stamina and requisite mental strength to endure multi-day trekking.
Participants must be known to Nature Trail and have satisfactorily passed our rigorous test application process.  This is because in the interests of all participants, once we embark on one of our treks, especially on a Multi-Day Trek, it's a bit late to enroute discover a participant cannot keep up or cope.  This would force Nature Trail Trek Leader to responsibly decide to terminate a trek enroute – inconvenient, problematic and costly for all involved.
TREK TYPES
2-Day Treks: extend up to 10km trekking per day

Multi-Day Treks:extend up to 10km trekking per day) from 3 to 7 days

TREK FEATURES & BENEFITS
Remote wilderness hiking during daylight hours only mostlly on track
Hike distance between 5km and maximum 10km per day
Track conditions can be hard to very hard and involve rock scrambling
Over multiple days, weather conditions can change significantly en route
Each individual participant is required to be completely self-sufficient in all  respects – hiking attire, kit, camp gear and hiking sustenance (food and water)
Trek outline supplied to booked participants a week in advance
Trek safety and instructional briefings are provided at start, finish and on a timely contextual basis throughout by the Trek leader as required
Restricted group numbers including Trek Leader: a safety minimum of 4, maximum of 10 participants
Each trekking route is pre-designed, trip planned and reconnoitered at least once, and risk assessed and risk mitigated
Participating trek group leadership, navigation (maps, compass and multiple GPS navigation devices), pre-selected safe campsites, remote group first aid kit & certified wilderness first aider, group kit support gear, applicant vetting, participant fully kit inspections before departure, trek details notification to the relevant authorities (NPWS and AMSA) group contingency support while en route – 24/7 satphone coms with NT Base, wilderness first aid, emergency communications, emergency evacuation management, weather and conditions pre-assessed.
Transport from Katoomba to trek start location and return to Katoomba from the finish location
Backup transport from en route evacuation waypoints back to Katoomba in the event of an incident or emergency
Public liability insurance
Participant accident insurance.
TREK PRICES
Annual Subscription $20
Tour Fee $50/day by each tour participant
Even sharing of the estimated fuel cost (NOTE: our treks usually involve driving some distances to the selected trekking area)
All fees are to be prepaid in full.
Enquire: