Our Credentials
Nature Trail's Tour Director and Tour Leader, Steve, has been hiking and touring around Australia since he was at school, university and participating with orienteering and bushwalking clubs.
Both hiking and touring the countryside have become Steve's lifetime recreations, although somewhat on-and-off over the years due to his corporate finance career commitments.  Steve is a passionate conservationist and operates as a Conservation Consultant for The Habitat Advocate.
Steve's keen motivation after his corporate career continues to be to regain his fitness and a healthy weight, which has been a key impetus for establishing Nature Trail.   Over the 20+ years of exploring the Blue Mountains and Central Tablelands, Steve has built up an extensive local knowledge of special Natural places of which he is happy to openly share with visitors.

Experience
Steve has been hiking since he was 14, recalling his first trek being three days in Tasmania's Cradle Mountain National Park with Camberwell Grammar School back in 1976.  He recollects that at the summit of Cradle Mountain in summer it snowed.
After HSC, throughout 1983 in what he calls his 'formative grand tour of Australia', as a backpacker Steve independently explored the entire continent of Australia finding work in each stopping off place from Melbourne, Brisbane, Proserpine, Townsville, Cairns, Darwin, Adelaide and later the coastline of WA, through the Kimberley and around Tasmania.
Steve recalls his early days practicing orienteering competing with the Nillumbik Emus Orienteering Club and was a foundation member of outdoor recreation university club 'OUTFIT' at what is now Victoria University and lead hikes to Wilsons Promontory and the The Grampians and white water kayaking down the Mitchell River.
Steve since a teen, participated in school cadets, volunteered a decade to surf life saving, trained in club orienteering, and was involved in club bushwalking including briefly with the Melbourne Bushwalkers, undertaking hikes in Victoria's high country – Mount Baw Baw particularly.
In 1986 undertook independent travel to England and Europe, then flew to New Zealand to start learning to fly helicopters.  A year later, Steve was accepted into the Australian Army's Royal Military College Duntroon to undertake officer training and was one of three accepted on an aviation cadetship.  However, Steve found the standard of basic infantry training to be poor and worse than his experience in school cadets, so he resigned five months into the 18 month course.
Upon discharge Steve diverted his focus to a maritime career and over the following three years obtained his Surf Bronze Medallion at Bondi Surf Bathers Life Saving Club, working on various vessels along the Far North Queensland coast, eventually obtaining his Commercial Coxswain Certificate in Darwin.
During that time Steve did not abandon his passion for flying, obtaining his unrestricted fixed wing license at Tamworth and then his commercial helicopter pilot license in The Kimberley and doing charter flights in the Top End.
Steve's employment background is eclectic.  Steve has worked in hospitality (food, beverage and hotels), in catering and in travel and tourism around Australia.  Steve worked as a tour guide driving around The Kimberley, as a coxswain on Port Phillip Bay, the Yarra, The Whitsundays and Far North Queensland.
Steve has worked as a coach captain around Victoria with Australian Pacific Tours, starting out driving mini-bus tours with Triangle Tours in The Kimberley in 1990.  He then worked for three years as a Coach Captain with Australian Pacific Tours around Melbourne and Victoria, and then led extended interstate tours with Quinces Scenicruisers.
During the recession in 1993 Steve left his home town of Melbourne for good and relocated to Sydney embarking on a corporate career over the next twenty years in management accounting,  business analysis and systems accounting, obtaining a degree in management in 2004 from Monash University.
After years of driving from Sydney at weekends to hike in the Blue Mountains, in 2001 Steve and his wife Sue decided to tree-change and settle in Katoomba, which they both consider to be the bushwalking heritage heart of Australia.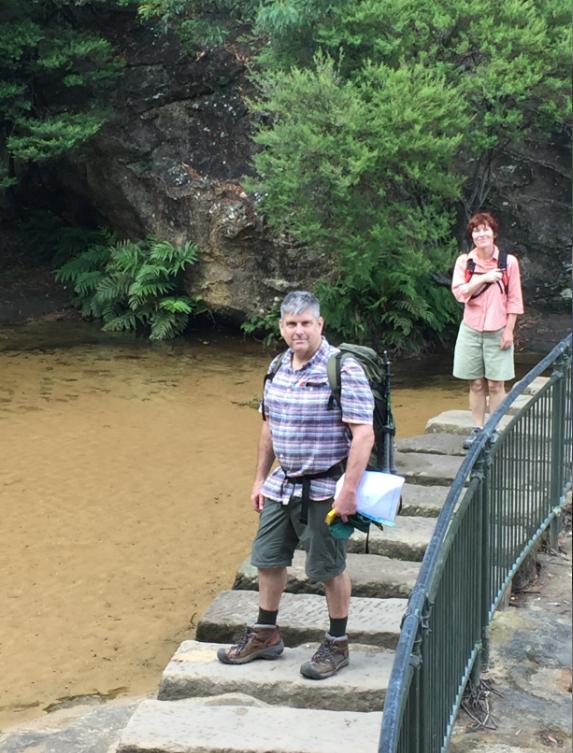 In 2003 Steve attaining a business management degree from Monash University.  During his studies, Steve worked hands-on as a truck driver, forklift driver, and logistics manager.
Steve's hiking experience spans Australia, from the local and distance reaches of the vast Blue Mountains region to Victoria's high country, the Grampians, Tasmania, various hikes through the Great Divide – from Dargo, Koscuisko, Dorrigo to the Atherton Tablelands and the wild Kimberley.
Steve remains passionate about The Mountains – surrounded by Nature, its cooler high altitude climate, its ecology, and exploring its vast wilderness.  Steve is keen to share his knowledge and insights with visitors.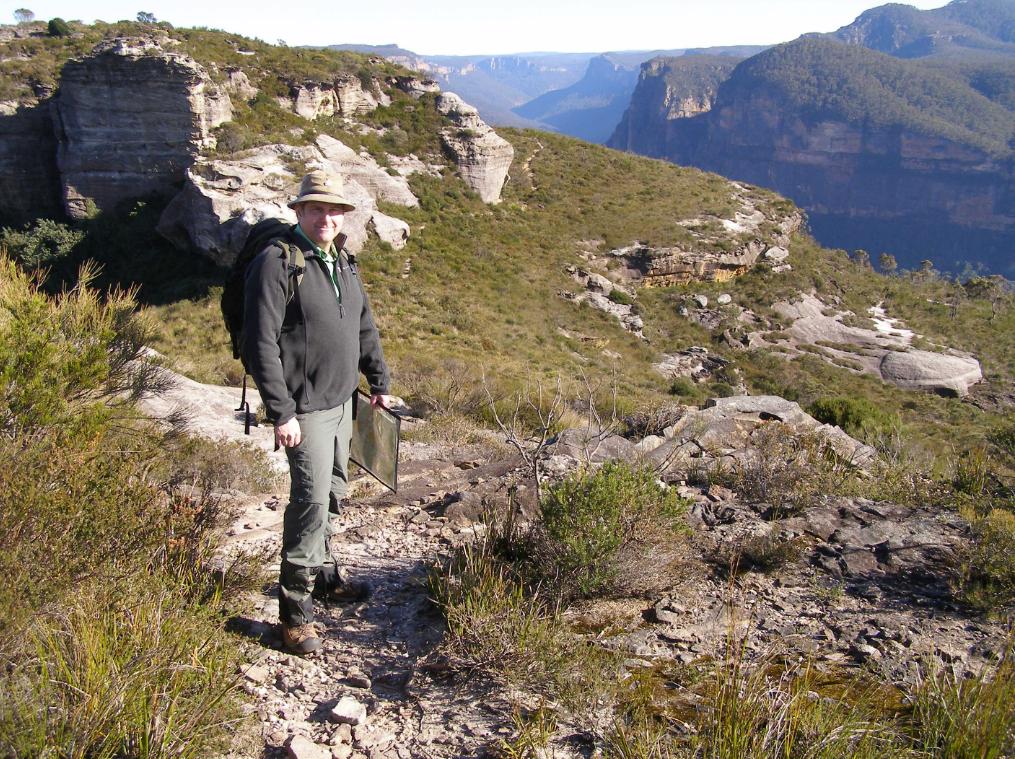 With each hiking tour, Steve has thoroughly reconnoitred, researched, evaluated the route for features and risks, and practiced-hiked the tracks with 'Friends of Nature Trail'.  This provides Steve with confidence that guests of Nature Trail are assured of receiving a premier Nature experience.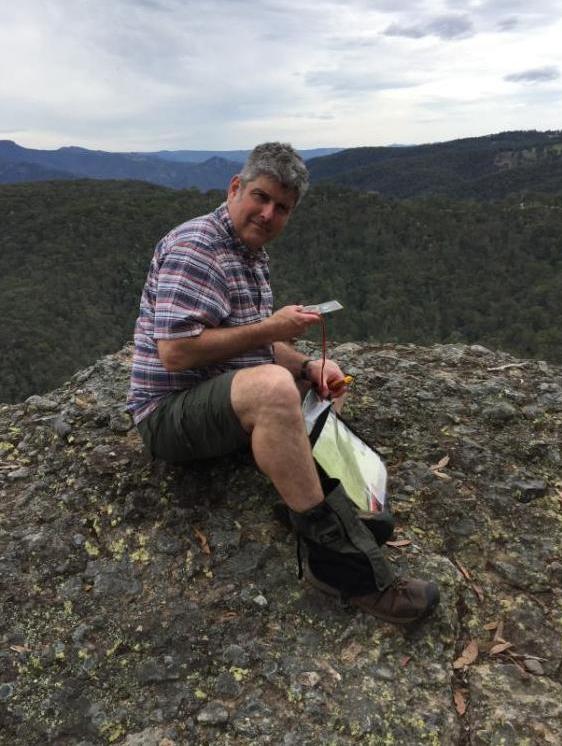 Qualifications
In July 2014, Steve successfully completed a field course and test in 'Drive and Recover a 4WD Vehicle' (Nationally Recognised Training Course SISODRV302A) and since 2016 Steve has continually held a 4WD Driver Authority tour license for New South Wales.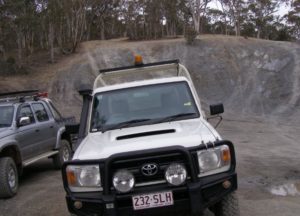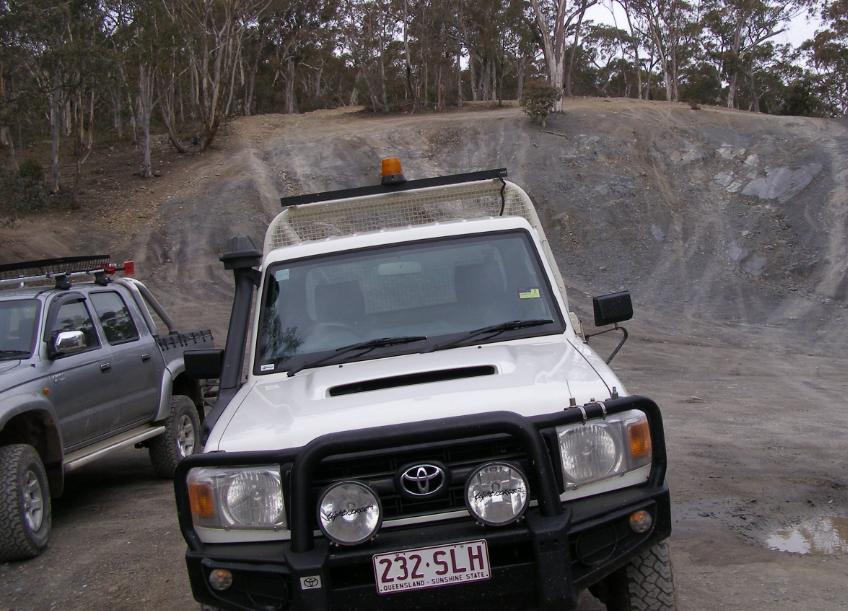 Steve holds numerous relevant local qualifications enabling him to advanced his skills and professionalism in the great outdoors:
Guiding Certificate IV (TAFE Ultimo, 2013)
Provide First Aid & CPR Certificate (September 2018) – renewed annually
Outdoor Recreation Certificate III (TAFE Wentworth Falls, 2014)
Remote Area First Aid Certificate (TAFE Wentworth Falls, 2014)
Drive and Recover a 4WD (Australian 4×4 Driver Training, 2014)
Dip Outdoor Recreation (TAFE Wentworth Falls, 2015)
Public Transport Driver License (NSW)
Current Booking Service Provider (Tour & 4×4 Vehicles)
Current authorised Heavy Bus Driver
Bus Driver Authority (public bus driver)
Certificate III in Driving Operations (Bus)
NSW Working With Children Check Approval
Food Safety Supervision Certificate 2015
Bachelor of Business (Strategic Management) (Monash University, 2003)
Commercial Coxswain (12m powered vessel, Darwin, 1988)
Radiotelephony License (Brisbane, 1988)
Unrestricted Fixed Wing Pilot License (Tamworth, 1989)
Commercial Helicopter Pilot License (Kununurra WA, 1990)
Diploma in Project Management (University of New England, 2010)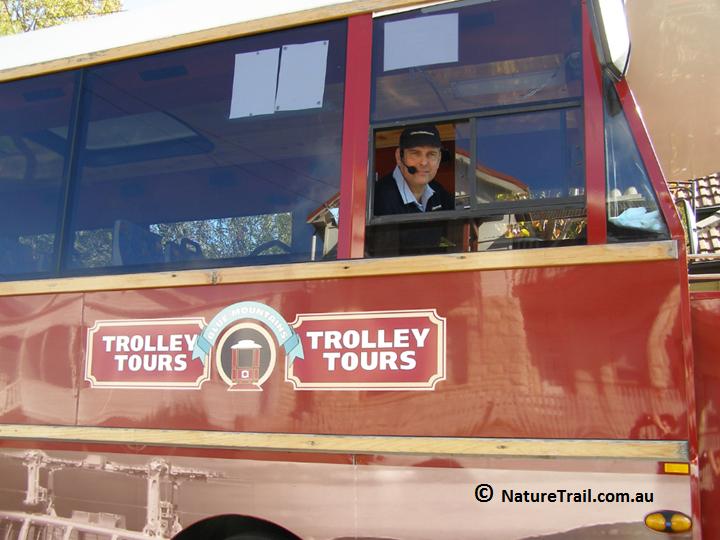 Steve's bushwalking hobby has become a business venture.  He decided to become a professional hiking tour guide so he could share his passion for the Blue Mountains and maintain his health and fitness, after a sedentary career in corporate finance.
So Steve enrolled at TAFE colleges to obtain a Certificate IV in Guiding (Ultimo 2013), Certificate III in Outdoor Recreation (Wentworth Falls 2014) and then cap it off with a Diploma in in Outdoor Recreation (Wentworth Falls 2016).
In 2017, Nature Trail launched, publishing its website and embarking on a series of bushwalk recces and practice trips with close friends so as to build a suite of quality tour offerings.
Nature Trail continues on the journey of professional development towards commercial launch anticipated in the Spring of 2018.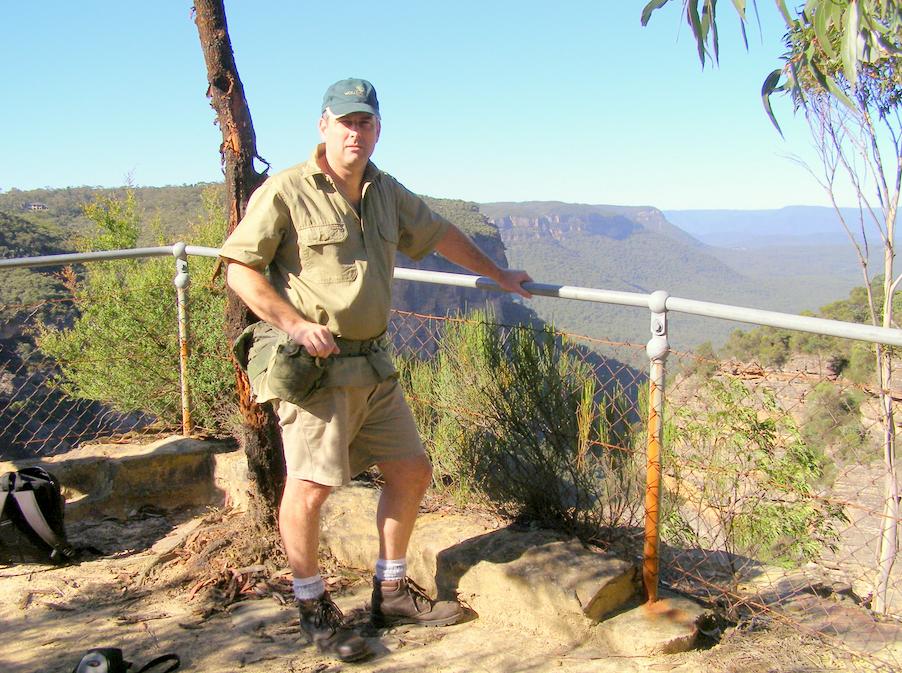 Local Knowledge
Steve has lived in Katoomba in the Blue Mountains with his wife since 2001.   Together they have explored most of the many hiking tracks, hills, valleys, back roads and four wheel drive tracks throughout the vast Blue Mountains region and beyond.  This has built up an extensive local knowledge base of the many wonderful features and range of opportunities to explore.
Steve undertakes detailed planning and regular reconnoiters and practice trips of tours offered and is always inquisitive about learning new routes and locations.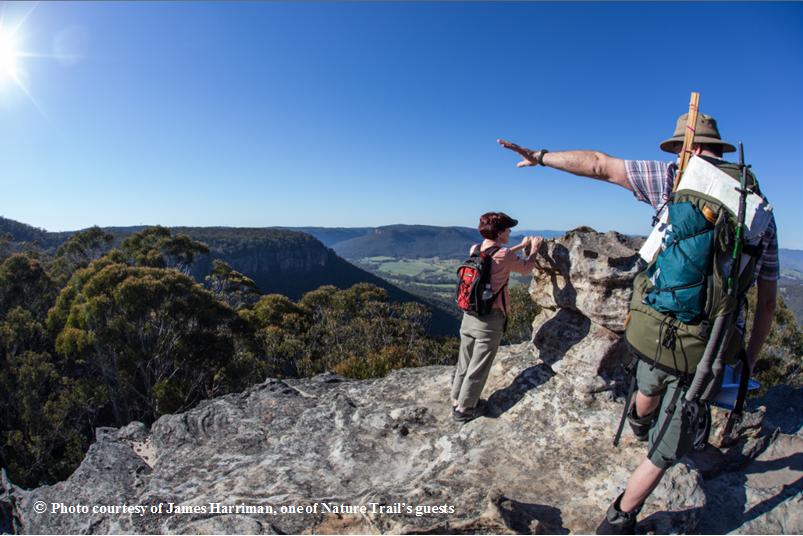 Steve's local knowledge extends to:
All seven national parks (NP) covering 10,300 square kilometres:

Blue Mountains NP
Kanangra-Boyd NP
Wollemi NP
Gardens of Stone NP
Yengo NP
Nattai NP
Thirlmere Lakes NP
Plus Jenolan Caves Karst Conservation Reserve
And beyond into the western approaches to the Blue Mountains

Hundreds of tracks – various grades, many features, and varying conditions and weather
Little known magical places – waterfalls, glades, stunning vistas, rainforests, wilderness access, wildlife by chance, and photogenic landscapes and understanding of the varying light at different times of the day and weather
An appreciation and insight into the changeable weather patterns of the Blue Mountains
History, heritage and insightful stories about the region, its villages and people
An ecological approach to understanding the natural environment, wildlife and unique flora
Extensive familiarity with the many villages, towns and back roads throughout the adjoining Central West pastoral region of New South Wales
Rare accesses to private properties and hospitable locals of whom Steve has established trusted acquaintanceship over the years
Local advice about what to do, what to see, best places to dine, stay, re-energise, indulge and escape.
A passionate conservationist, Steve is keen to showcase the wild beauty offered by this World Heritage expansive natural region.   Within minutes on tour Steve will take you away from the crowds off the beaten track to non-touristy special places.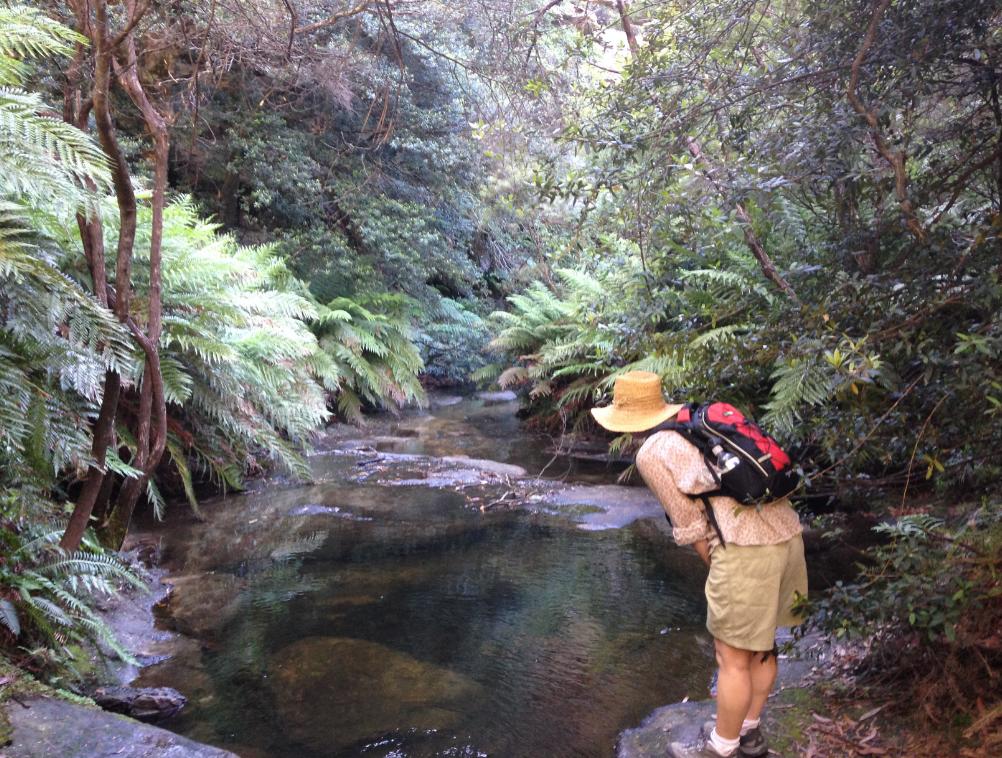 We invited you to explore our website further.