What to Expect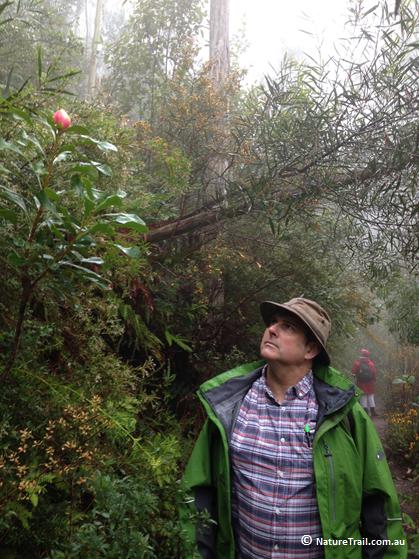 With Nature Trail our 'tour style' is relaxed, engaging, professional and friendly.
We emphasise safety, comfort and enjoyment in our walks.  Our aim is not to get from A to B as quickly as possible – that can be done on any running track, but instead to savour the journey experiences along the way.  These wonderfully vary with each tour, repeat trip, season and weather variation.  It's because the wild places we travel through are rich in beauty and wonder in their own natural way.
All our walks are on established hiking tracks from easy to medium grade. Sometimes a hiking track grade or section may require some exertion, but we plan, research and reconnoitre every route in advance, so we know what to expect.  This attention to detail allows us to add special value to each walk experience, as well as to ensure maximum safety.  Each tour brochure page on our website clearly explains what can be expected – track grade, distance, duration, fitness required.
Our philosophy is about health and exercise in the high Blue Mountains fresh air. Nature Trail is about Nature interpretative guiding, which is all about taking a closer interest in the journey, the landscape, the wildlife, vegetation and the stories about the special places along the way.
Our pace is typically about half that of energetic club bushwalkers, however we return with richer memories, great photos, and well-exercised.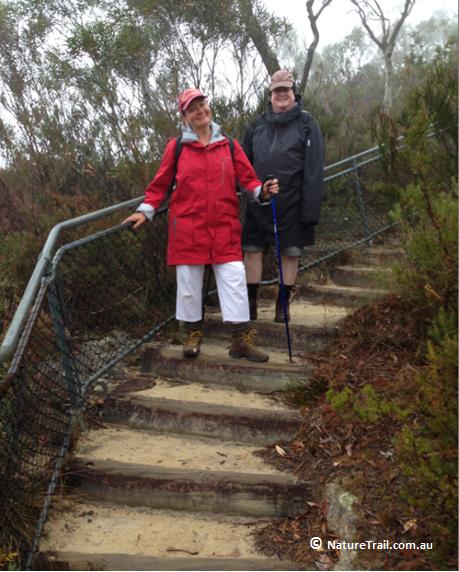 We frequently 'Nature pause' to catch our breath, sample the fresh Mountain air, the fragrance of Eucalypts, take in the scenery, take photos, observe wildlife by chance, ask what plant is that?, and dip toes into a cool stream or pool en route.
How often does one venture into wilderness and have time to ponder, engage and just chill?
If this tour style suits you, then we'll be our pleasure to have you join us.
The pricing of all Nature Trail include the following service benefits and reassurances to each of our tour guests:
A Katoomba Local – in the heart of the Blue Mountains since 2001
Professional Guide:  Locally qualified, experienced and friendly tour leader (Nature Trail's Tour Director)
Quality Tour Delivery: Each tour is fully researched and recently reconnoitred
Luxury Transport:  Upper Mountains transfers (Wentworth Falls to Mount Victoria) in classic Range Rover comfort at no extra charge
Professional Driver:  Experienced in off-road 4×4, double decker coach captain, commercial helicopter pilot, commercial coxswain, etc.
Tailored Commentary:  Our interpretative knowledge to suit special interests
First Aid Qualified:  On every tour we responsibly carry a Remote Area First Aid Kit (fully maintained) with the requisite remote area first aid skills
Trip Notification:  For each remote area trip we lodge a detailed route/schedule/kit/guest manifest information with the appropriate authorities in case of emergency
Emergency Communications:  On every tour we responsibly carry a smartphone, satphone (Telstra/Iridium network), a personal locator beacon, and remote patient survival kit
Tour Guest Comforts:  In our luxury tour vehicle, we include personal comforts, mod-cons, light tour snacks, and a few other incidentals so the tour experience is enjoyable
Up-to-date Local Information: on local eateries, attractions, special activities, shopping, what's on, entertainment, hire car/quality Uber drivers, day spas, travel guidance, etc.
Alternative Tour Options:  In case of bad weather or unforeseen access  closurers, we have the knowledge and flexibility to quickly switch to safe and exciting tour options to suit
Appropriate Licensing and Accreditations
Public Liability Insurance

Best Pricing –

we challenge you to find better priced commercial tours in the Blue Mountains [Check out our Pricing]
Additional Extra Services
Catering Choices     (at cost)

Gourmet Cut Lunch Choices
Café Lunch Choices (choices with flexible duration)
Restaurant Lunch (choices with flexible duration)
We are also flexible to dietary needs and preferences

Kitted Day Pack Hire     $30

Includes basic hiking support and safety gear, plus trail snacks.