NSW Outback Adventure
During October 2020, deserving an escape from government pandemic lockdown, we embarked upon a private nine day rural road adventure deep into the NSW Outback.
It was basically from the Blue Mountains to Broken Hill and back, spanning diverse country covering a 2,810 km clockwise loop.  It was the best pandemic escape.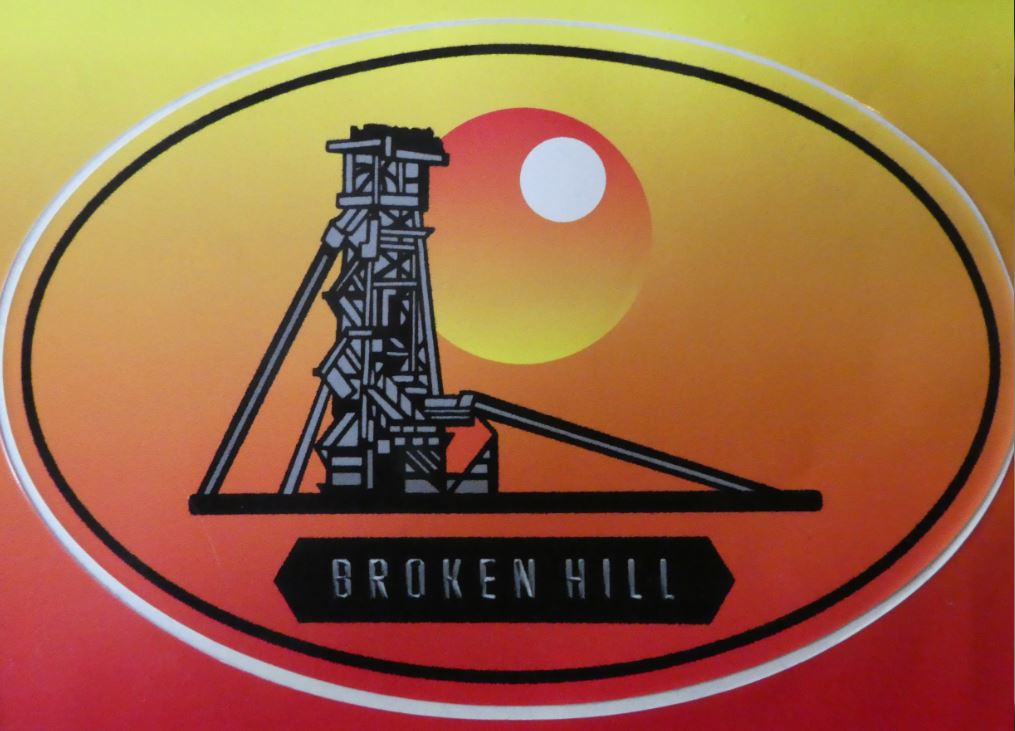 Yes, it was Covid-19 compliant and indeed sanctioned by the NSW government since being wholly within the state of New South Wales – as enormous a state as we discovered.
It was our first trip to Broken Hill, and my wife's first trip to the Outback.  It was just the two of us in our newly acquired and restored 1995 Range Rover Pegasus LP 4.6 V8 HSE (pre-P38).
Spiced with many attractions en route, the cold beer at the legendary Silverton Hotel outside Broken Hill was the holy grail for this outback crusade.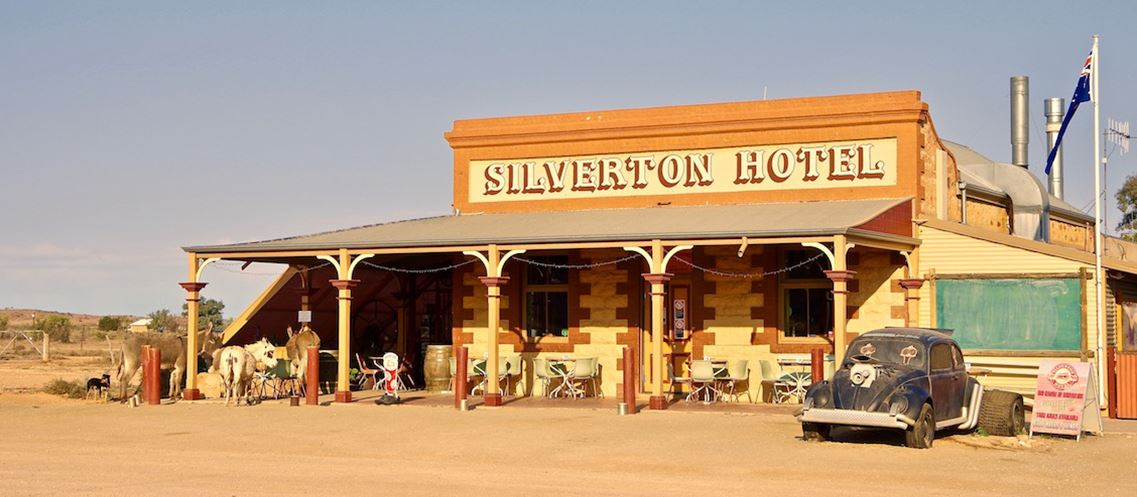 Nature Trail Base is our home in Katoomba near the Carrington Hotel's brick chimney.  This is our trip start and finish points.  The outbound route westward follows the Great Western Highway A32 which despite name changes, extends from Parramatta Road to Broken Hill.
Check the distance from Katoomba: 100km west of The Obelisk in Macquarie Place Park in Sydney's CBD – the earliest surviving public monument of Australia`s British colonisation where Governor Phillip raised the Union Jack in 1788.  It remains the zero point for the measurement of roads from Sydney across New South Wales…like Silverton.
So this trip's outbound road distance is 1,276 km from Nature Trail's base in Katoomba – pretty much starting from the Carrington Hotel's iconic 30m octagonal powerhouse brick chimney-stack – officially the 'Carrington Stack'. [Read more]

Tour Scope
So this is the outbound route staying at Parkes, Griffith, Euston then two nights in The Palace Hotel at Broken Hill.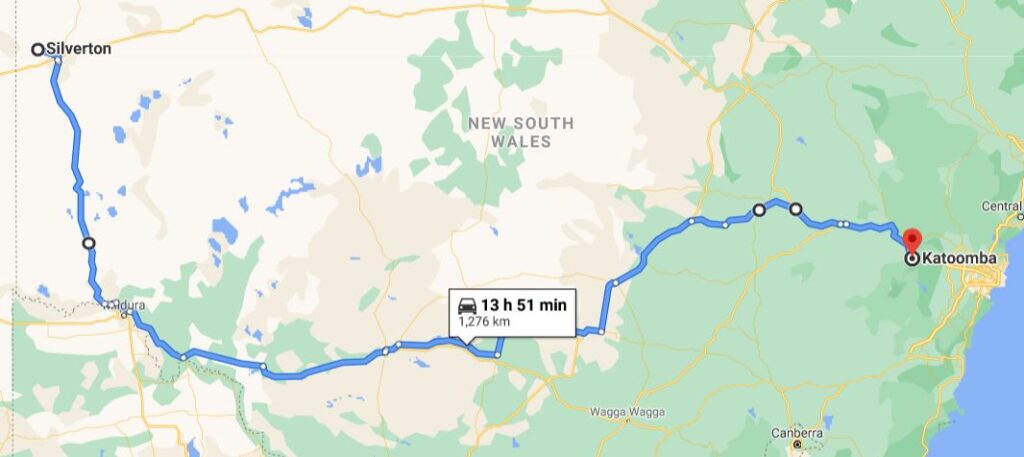 Whilst the return road distance is 1,104 km, staying at White Cliffs underground motel, Cobar and Dubbo before returning to Katoomba.
But these maps are Google approximates of our more specific selected tour route.  We end up covering 2,810 km in order to explore more interesting features off the main highways.
Personally, this is not my first trip to the Outback, having done Melbourne to Kununurra in the Kimberley via Victoria River Downs in my old 1969 Holden 186. Previously crossing the Nullabor, Perth to Broome, then Kununurra to Wyndham, then Darwin, Darwin to Cairns via Cape Crawford and Karumba, Cairns to Melbourne via Longreach, and exploring every Australian state and territory.
While this lot is not quite the Simpson nor the Gibson desert, I know it gets hot out there and I have much respect for remote dirt country, especially when it's over 45 Celsius or when it buckets down over Outback red clay or black soil.
Since setting up my tour operation Nature Trail back in 2013, I have lead many dozens of group trips, both hiking and road touring.   Given recent widespread rains out west, this is not a rough off-road trip.  The tour vehicle is not yet kitted up for serious 4×4 off-roading.  So it's a 3+ star hotel-motel stays drive mostly on the bitumen to avoid getting bogged. It's off season (October springtime is mild) and outside hectic overbooked school holidays.
This is a 'lifestyle' trip and we're both in our 50's after all – no kids by choice and one cat.  It's a multi-day (x9) road touring trip at a relaxed pace in which we're staying in very comfortable if not plush accommodation en route.  The trip purpose is to experience a decent sample of Australia's Outback in comfort. We want to see the many sights, attractions, places of interest, local sight tours, heritage walks, Nature hikes, Outback sunsets and starry night skies, shopping indulgences, local eateries and engaging with locals to learn their insights along the way.
This trip's budget for two of us?  $4000 – an indulgence, meticulously desk-researched to ensure this adventure will be long reminisced.
My wife and I shall share the driving of 'Excalibur' – our touring 4WD P38 4.6L V8 Range Rover. Purchased in August 2019 off a mate at mates rates.  The car at the time: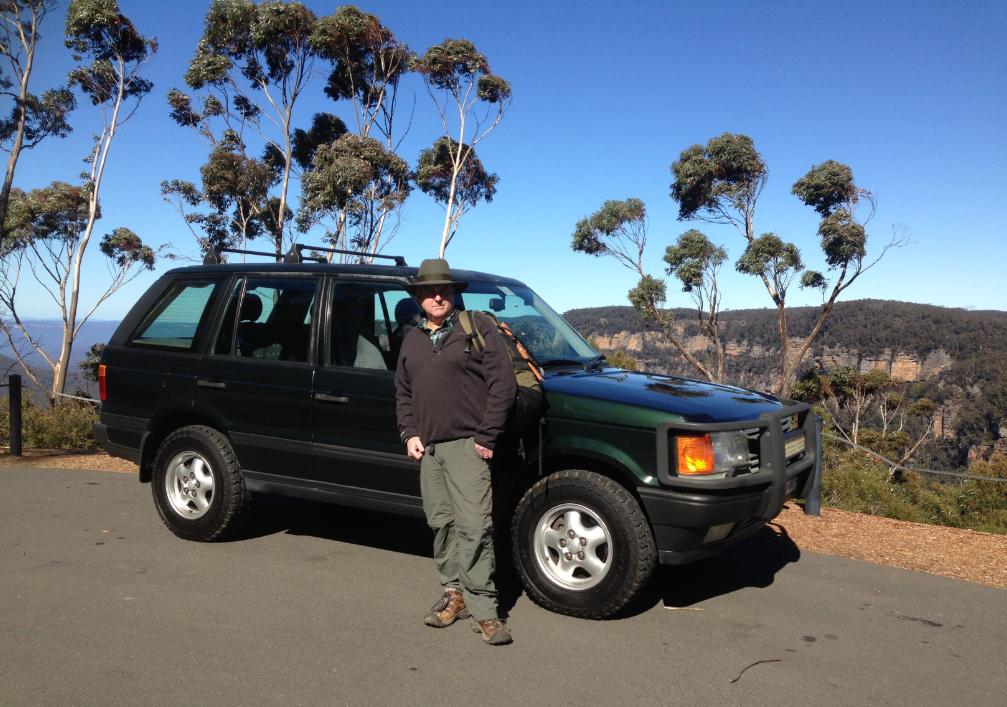 A year later, following bushfire lockdown, torrential rain, a dust storm, and back-to-back the current global virus pandemic lockdown; we've poured government funding into major repairs, full 200K servicing, restoring the trim and duco and partially kitting it out ready for commercial road touring – once the government lockdowns hopefully ease off.
So we're taking Excalibur on his first big trip, an adventure, to get some return on our investment.  It's our first real chance to try it out and the new kit thus far – the Cooper all-terrain tyres, new HEMA satnav, UHF radio, 240V power, sound system, hands-free mobile phone, even the fixed aircon and heater.
Why this time of year?  Well, due to the pandemic lockdown, last March my wife was forced to cancel a planned holiday with her Northern Irish family driving around New Zealand's South Island, so this is a make up – keeping compliantly wholly within the state of New South Wales.  We'll cross no borders and the NSW Government is encouraging such holiday trips now, so we should be right.  We're also going outside school holidays, which will be quieter, plus it's spring and there've been good rains out west.
This 'NSW Outback Adventure' is to be a practice recce for future commercial trips and perhaps to lead a club trip with the Range Rover Club of NSW, of which we are both members.  As we plan and drive this trip, details will be journaled on this webpage as a 'tour yarn' describing the trip.  In addition, a Trip Plan including the detailed route, itinerary, equipment, stops, stays, attractions, town walks, nature hikes, facilities, observations will be made available on a linked private page for selected access.
Steve, Tour Director
Tour Yarn (Recce Trip 1)
Contents
Day 1: Katoomba to Parkes
Day 2: Parkes to Griffith
Day 3: Griffith to Euston
Day 4: Euston to Broken Hill
Day 5: Broken Hill & Silverton
Day 6: Broken Hill to White Cliffs
Day 7: White Cliffs to Cobar
Day 8: Cobar to Dubbo
Day 9: Dubbo to Katoomba
Post-Trip Reflections
Trip Plan
Day 1: Katoomba to Parkes
Segment Specs
Duration:  8 hours
Road Distance:  262km
Stops:
Orange (brunch)
Cudal (village walk-around)
Manildra (village walk-around)
Parkes – CSIRO Radio Telescope
Parkes – Henry Parkes Museum
Parkes – Accom. Check-in
Parkes – town walk-around & shop
Parkes – refuel & checkovers
Parkes – dinner
Parkes – stay
(Tour Yarn Pending)
Day 2: Parkes to Griffith
(Tour Yarn Pending)
Day 3: Griffith to Euston
(Tour Yarn Pending)
Day 4: Euston to Broken Hill
(Tour Yarn Pending)
Some unique fun…guided by cameleer Stuart for a desert sunset…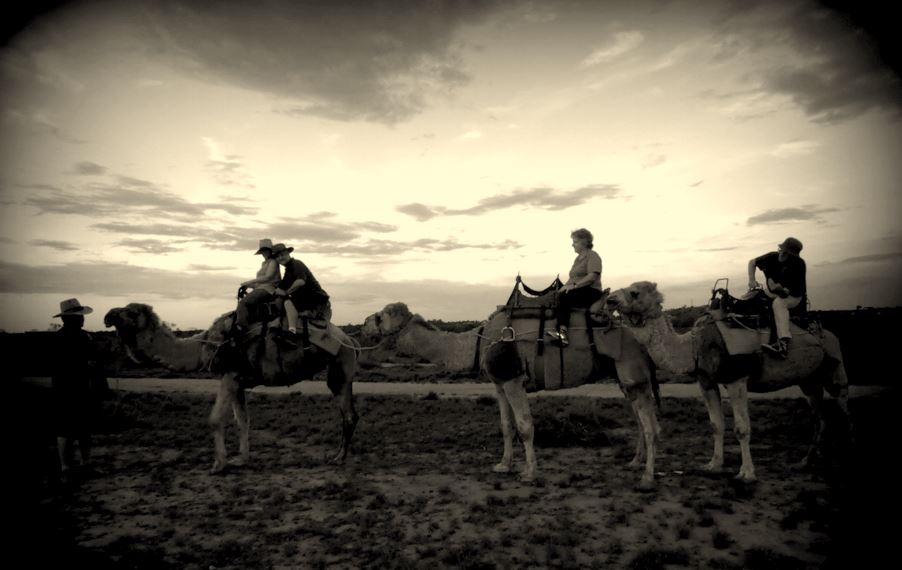 Day 5: Broken Hill & Silverton
Our destination for a few days, Broken Hill, complemented by an insightful Heritage Walking Tour with wonderfully knowledgeable local volunteer guide Gigi Barbe.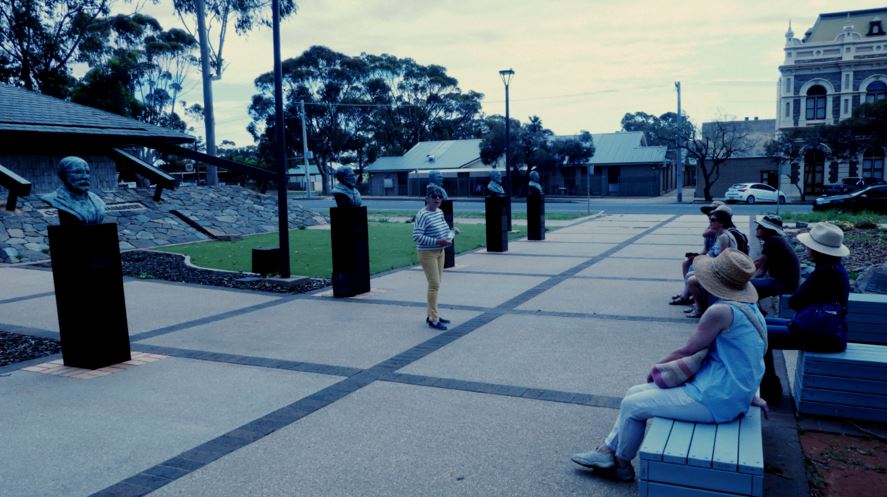 Upon our advanced tour booking, Gigi graciously accepted no payment, recommending visitors contribute a donation toward Broken Hill's artistic community:  http://www.brokenhillartexchange.org.au/2019-Calendar-of-events-Desert-Equinox.php
So we did, days before arriving and pleased we did – trust in travelling usually engenders a rewarding experience.
Afterwards, a well deserved pit stop just out of town..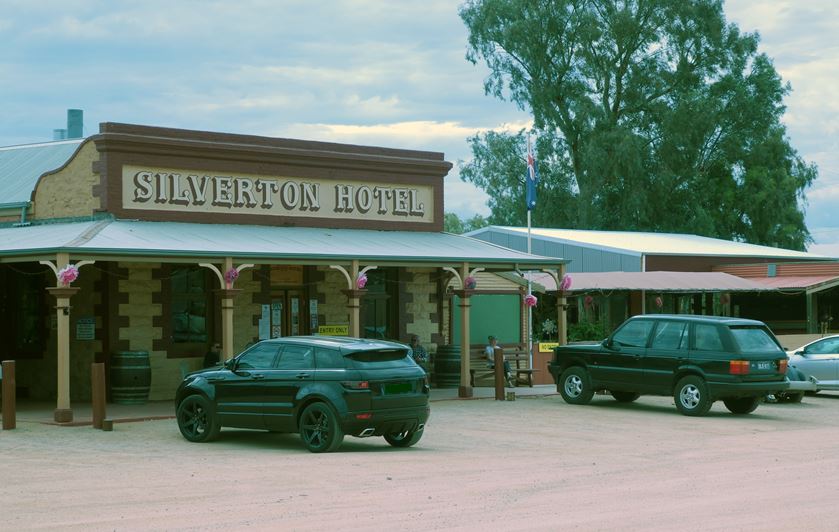 Exploring the old mining town ruins in the desert…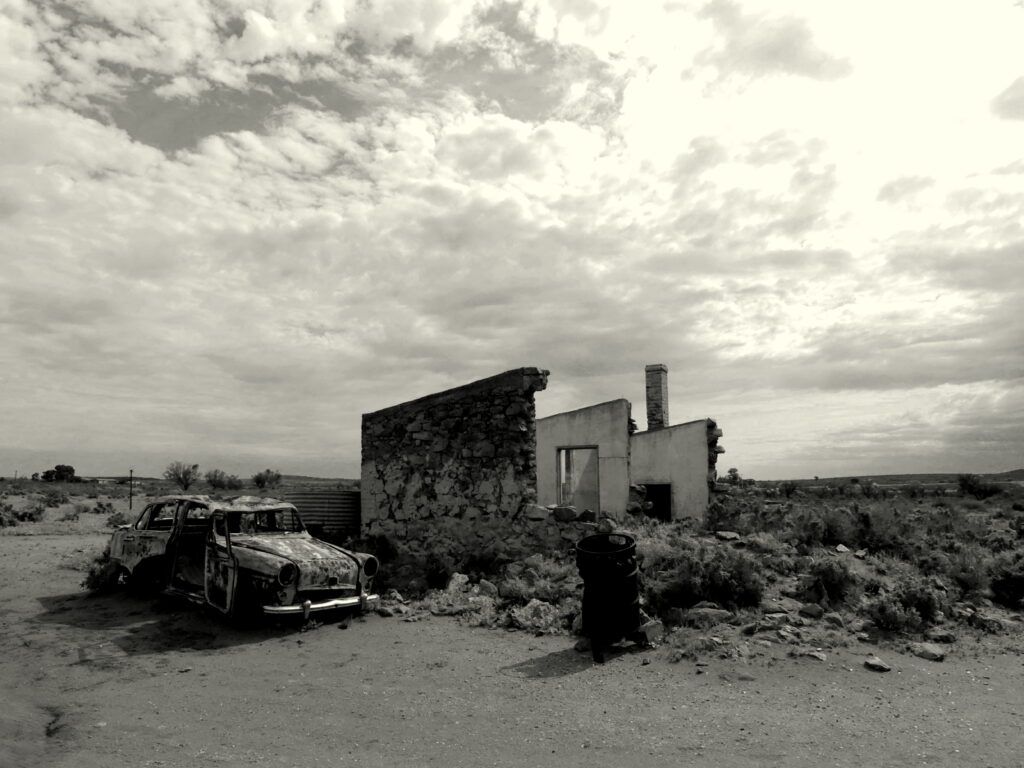 Till our ultimate most westerly wondrous panorama of the desertscape from Mundi Mundi Lookout…

This just a sample of the mind cleansing Outback experience.
Day 6: Broken Hill to White Cliffs
So much diversity in landscape.  Beyond the eastern bustle…out west once in the Outback we pull over and turn off the engine.  Magic quiet and solitude with just a whistling breeze.

A personally guided tour of our underground dugout stay in the remote heritage opal town of White Cliffs…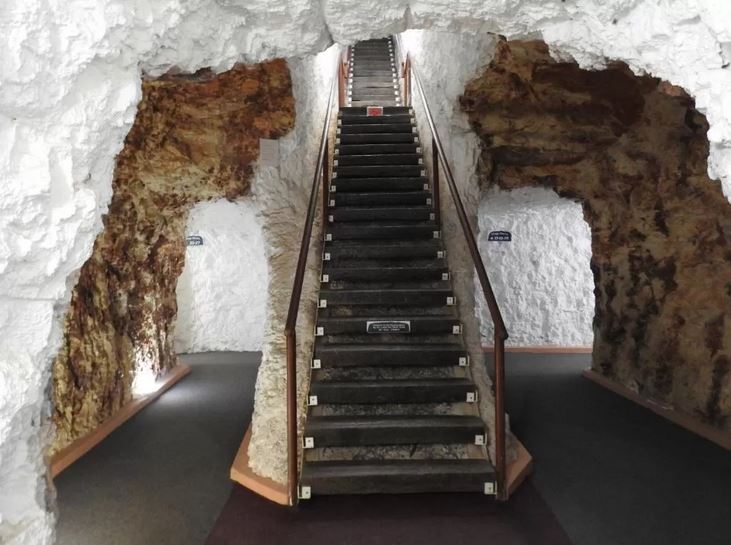 Day 7: White Cliffs to Cobar
(Tour Yarn Pending)
Day 8: Cobar to Dubbo
A guided walk through a colonial heritage homestead from the 1830s…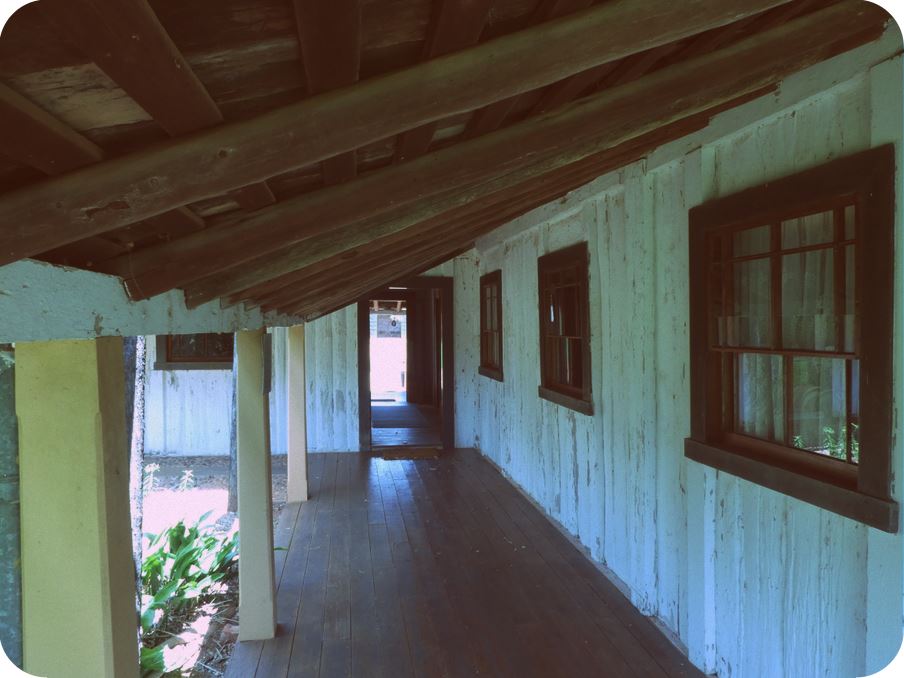 Day 9: Dubbo to Katoomba
(Tour Yarn Pending)
Post-Trip Reflections
(Tour Yarn Pending)
Trip Plan
NOTE: Trip Plan details are private for commercial reasons, privacy reasons and to share with trusted friends and associates.  (Click TRIP PLAN for supplied password access).