Where We Go
Shiort Nature Trail tours all start from Katoomba in the heart of the Greater Blue Mountains World Heritage Area.  The essential focus and offering of Nature Trail are hiking tours in order to experience and immerse in Nature, and our tours include 4×4 transport services to and from our selected hiking locations.
We offer guest tour transfer pick up and return anywhere in the Upper Blue Mountains between Wentworth Falls and Mount Victoria.
Our tours travel throughout the Blue Mountains Region which includes the following national parks and nature reserves:
Blue Mountains National Park
Gardens of Stone National Park
Jenolan Karst Conservation Reserve
Kanangra-Boyd National Park
Nattai National Park
Thirlmere Lakes National Park
Wollemi National Park
Yengo National Park
Some of our tours also venture beyond the Blue Mountains south, west and north respectively into the Southern Highlands, the Central Tablelands and the Upper Hunter regions.  These tours generally deliver non-hiking road touring experiences, while others provided a mixed offering.  Each tour brochure is very clear about the experiences offered.
Basically this map shows the extent of our touring range (hiking and road touring), and we exclude the greater Sydney metropolis.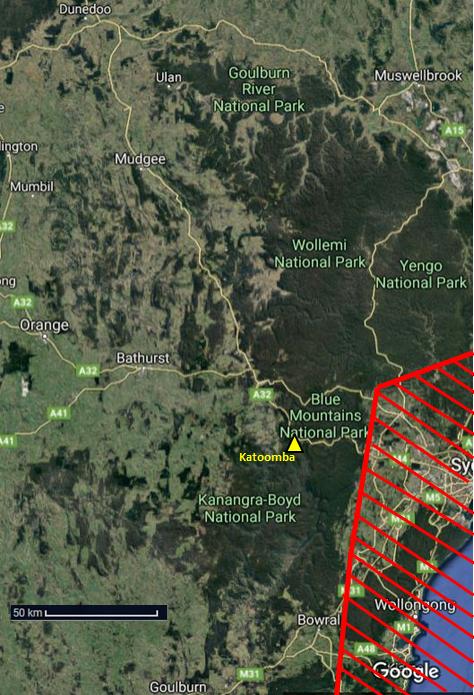 We seek to deliver a relaxed, quality and personable experience for each of our guests on all our tours.  With this standard in mind and for reasons of safety, we limit the road distance radius we travel from Katoomba per day:
<3 Hour Hiking Tours from Katoomba
Half Day Tours:  max 25km radius from Katoomba
Day Tours: max 50km radius from Katoomba
2-Day Tours:  max 100km radius from Katoomba
Multi-Day Tours:  beyond 100km radius from Katoomba
Our Private Chartered Tours are consistent with these driving limits.