How We Travel
Nature Trail's tour style is professional, well-planned and organised and delivered in a generally relaxed way.  For all our tour types is all about enabling visitors to the Blue Mountains Region and beyond explore the beautiful natural landscape in a safe, relaxed and enjoyable way.
Our focus is on interpretative guiding – taking time to describe and explain what we seen and encounter en route so that all our tour guests derive the best outdoor experience we can offer for a chosen tour type, area, route and schedule.
Choice of Travel Mode
Nature Trail's service offerings include a choice of 3 distinct travel modes:
Hiking Tours    (Short <3 hours, Half-Day, Full-Day or Long-Day options)
Road Touring   (a choice of special interests with varying durations)
Treks                (2-Day and Multi-Day options)
We also at times offer a combination of the above for added variety.
All our service offerings include vehicle transfers for up to 4 passengers (Upper Blue Mountains only) plus we invite the extended flexibility of additional tour guests using their own vehicle in a Tag-Along convoy with in-car communications.
Our Hiking Tours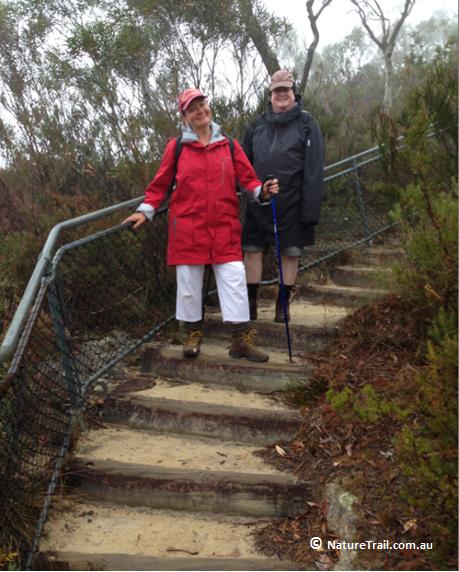 Nature Trail is an 'interpretative' style of tour operator.  Our Hiking Tours focus is to experience Nature and provide insights, the joy of the features of the World Heritage Area, its stunning vistas, waterfalls, gorges, flora and wildlife by chance.  We provide researched commentary from time to time on topics we see including ecology, geology, history, flora and fauna and local stories.
Our Hiking Pace
Nature Trail's hiking tours are delivered at a easy pace (roughly 2kph) to ensure the safety, wellbeing and comfort of our tour guests.
We are not a fitness trainer or bootcamp.  We do not rush at pace as typical with club bushwalks, rather we provide informed and researched commentary at select times and allow time for rests and photography en route.
The grade of hiking tracks vary from Grade 1 (Very Easy) to Grade 4 (Very Difficult).  For safety reasons, the grade of track is made known in our Tour Flyer.  We also vet applicants for suitable fitness and hiking experience before accepting a tour booking.
Whether the duration is a few short hours up to a long day; every hiking tour we deliver is first thoroughly planned, reconnoitred and an appropriate route and schedule decided to allow sufficient time to approximate the timings on our tour flyer.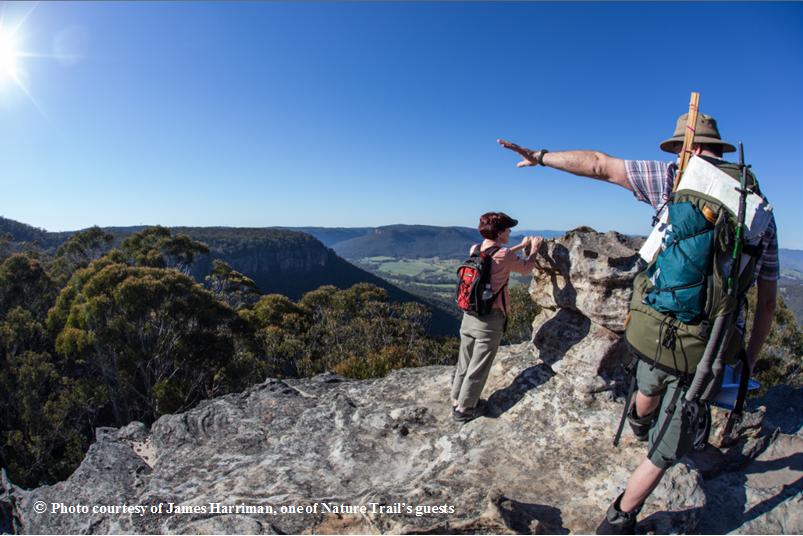 Nature Trail's tour leadership style is primarily described as an 'affilliate leadership style', which is characterised by as personable, supportive and encouraging of team harmony on any given tour.  Sometimes we find also that a limited 'coaching leadership style' can be valued by some tour guests who find a touring experience at times outside their comfort zone or stressful.
As a tour leader responsible for usually little know strangers in an outdoors and often remote field setting, unexpected situations can eventuate (emotional experiences, disputes, incidents and emergencies, etc ). It is at these times that our trip leader has the wisdom and interpersonal skills to adopt a secondary more 'authoritative leadership style' as appropriate to take and effect direct action in the interests of a tour group's safety and welfare.
At Nature Trail we share and communicates ideas, information and knowledge about the places we visit.   We seek to provide engaging and meaningful experiences to our guests.  Our aim is to foster insightful appreciation and respect for the natural, cultural and historical heritage of the Blue Mountains region and places beyond.
As a commercial tour operator, Nature Trail does not adopt the pacesetting leadership styles typical of bushwalking clubs, nor the autocratic styles of bootcamp personal trainers.
We responsibly adhere to Australia's outdoor Leave No Trace seven principles, being:
We plan ahead and prepare for each tour – many times over
We hike and camp on durable surfaces
We dispose of waste ecologically sustainably
We leave what we find
We minimise campfire impacts – no-one will know that we were even there!
We respect wildlife – we hike quietly and stay well clear of wildlife presence
We are considerate of our guests and others we encounter on tour.
Nature Trail's hiking policy is to safely and professionally adhere to well-formed tracks and to access only safely fenced lookouts.
Small Group Size
Nature Trail is a small independent family-owned tour operator.  We focus on bespoke to tours personably offered to smalll groups and led by one trip leader.
For our Hiking Tours this means number limits from minimum 1 guest to a maximum of 6 guests.  This is to ensure manageable safety and quality of experience.
For our Road Touring, the inherent lower risks mean that our number limits can extend from minimum 1 guest to a maximum of 10 guests.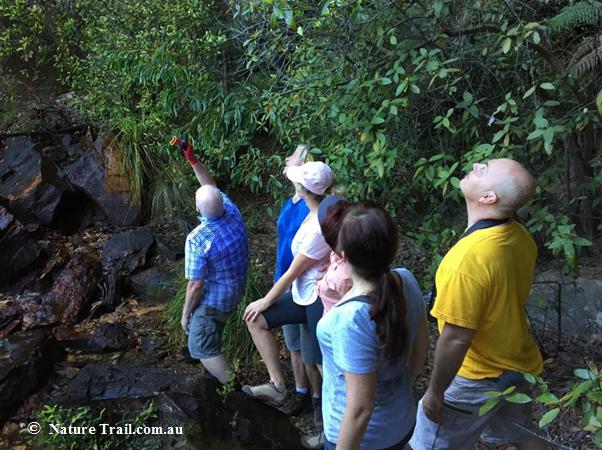 Our Road Touring
Road Touring with Nature Trail includes transport by our dedicated tour vehicle – a rebuilt and restored luxury 4×4 classic Range Rover we call  'Excalibur'.  It's a beautiful ride with all the trimmings, mod-cons and kitted out for road touring.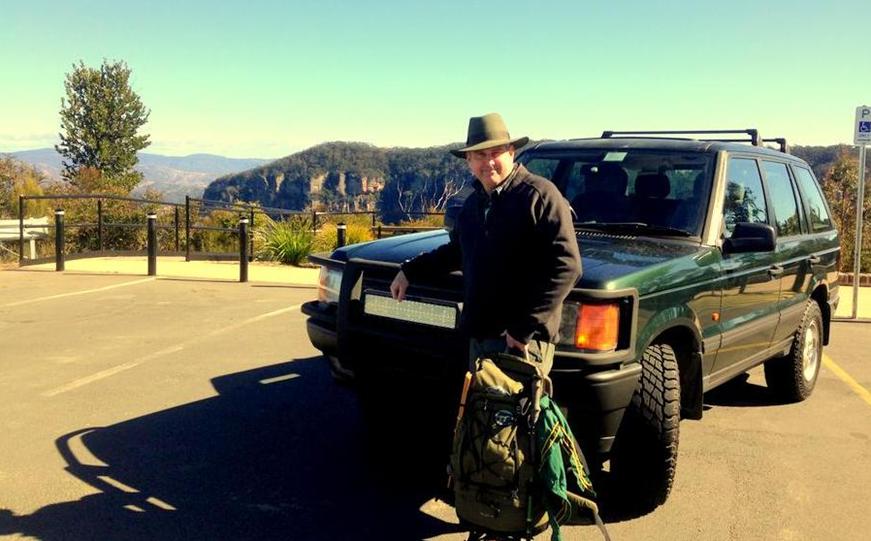 Our tour vehicle Excalibur seats up to four tour guests in comfort and includes two design features that add to the scenic benefit of travelling in this classic Range Rover – a sunroof and low-sill window relative to the high seating position, making the visibility exceptional and ideal for sightseeing.
Our Road Touring pace is similarly easy going allowing generous time to explore around a village or attraction.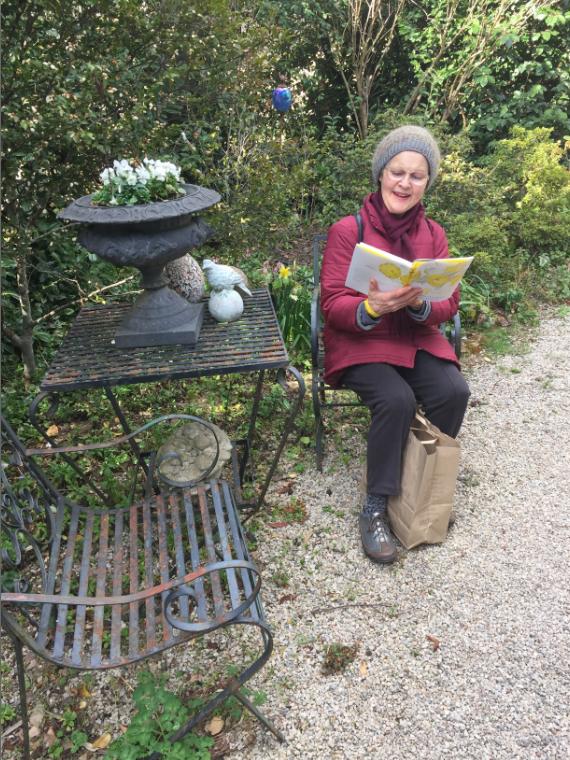 No hurry on a Nature Trail tour, we're on holidays and we emphasize the journey experience as well as the destination.
Our Transfers 
All Nature Trail tours include transport pickup & return in our tour vehicle from and return a locations within the Upper Blue Mountains (Wentworth Falls to Mount Victoria), whether it be at an accommodation facility or at a tour guest's requested rendezvous point of choice.   We offer such transfers at no extra cost.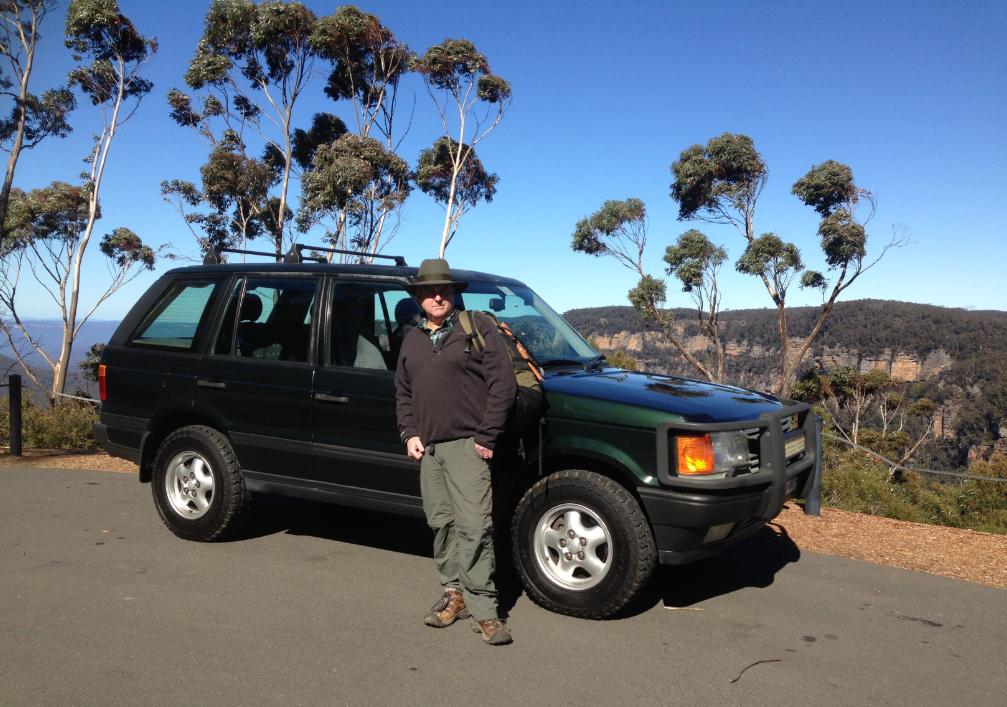 Since Nature Trail is based in Katoomba, we are only a 5 minutes drive from Katoomba Railway Station, so we often arrange to collect our tour guests from this station as they arrive from Sydney, and we meet you right on the railway platform.
We do not travel to Sydney since it is 100km from Katoomba, and it would just be too expensive to do so, compounded if we had to pick up and return to Sydney (four trips each way with multiple motorway tolls).  Plus anyway Sydney traffic is typically very heavy and generally causes time wasting gridlock delays.  So sensibly, our policy is not to travel to Sydney.  There is a regular hourly train service directly from Sydney's Central Station to Katoomba Station.
More than 4 Tour Guests?
Since our tour vehicle seats up to four tour guests, any more on a tour will require addditional transport to be pre-arranged, which we are more than happy to facilitate.
Options include utilising your group's own vehicle(s) in a tag-along convoy arrangement or else hiring a car or two, which can easily be done locally in Katoomba.  Again, we can happily facilitate transport transfers at no extra charge.
Our Treks
This is an advanced service offering that we explain in detail under our Treks menu heading.