Mayfield Garden practically to ourselves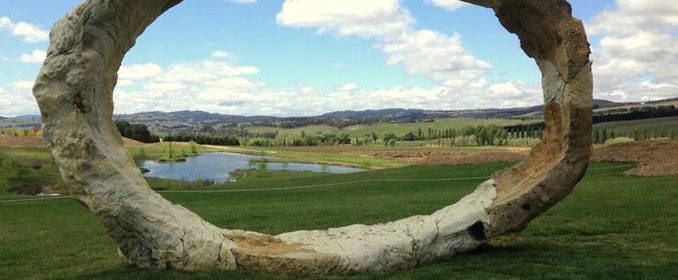 From time to time as the seasons entice, Nature Trail ventures beyond the Blue Mountains west into the pastoral and historic Central West Region of New South Wales, like on this occasion.
We arrive in spring and high altitude Oberon's fickle weather is luckily sunny for us today.  Mayfield Garden is 13 km outside the old logging town of Oberon, situated on what was once forest then, for a century a mixed wool sheep and beef cattle farm.
In 1984, merchant banker Mr Garrick Hawkins, invested soundly in over 2000 hectares of working cattle and sheep pastoral.  As the farm continued, Mr Hawkins had other plans with deep pockets.
He then set about planning his house and garden as a family weekender.  But he had a creative vision and idle cash and for the past three decades he's gone to town with the guidance of local landscape garden designer, horticulturalist and nurseryman extraordinaire Mr Peter D'Arcy.
Our guide parks our express transport (below) and goes on to elaborate on some of the background to this magnificent garden estate.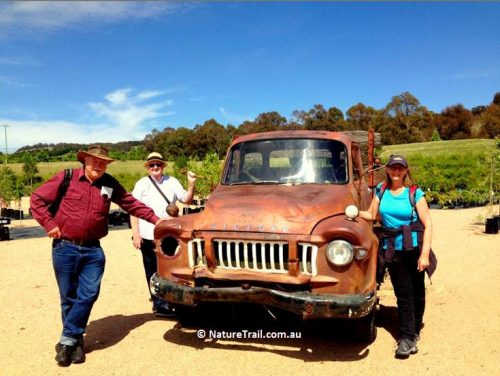 Mr Hawkins has long been passionate about the beauty and grandeur of English and continental formal gardens which he has visited on his many of his overseas trips.  Perhaps Mayfield is named after the village outside Ashbourne in Derbyshire, England.
At over 1100 metres elevation, it is 100 metres higher than our base at Katoomba, and the climate is cold temperate, interspersed by a scorching high altitude summer.
Mr Hawkins set out to create an extensive formal garden inspired by the grand estate private gardens of Britain, around his farm estate concept.  "It just sort of evolved bit by bit," according to Hawkins.
Steve, our guide shows us over the map and tries to explain the scale of the garden.  We later appreciate his emphasis of "but wait, there's more.."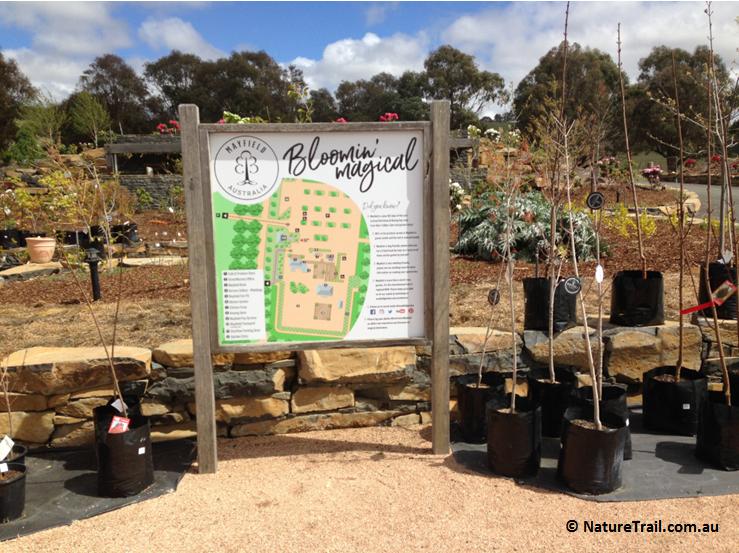 The first thing that strikes visitors to Mayfield is the scale of the garden. It's massive. Sweeping lawns cover an area equivalent the size of an 18-hole golf course, but a far better use in our view.  The weed free lawns envelop extensive formal gardens, streams forests and two lakes.
It's one of the largest privately owned cool-climate gardens in the world, and the current 64 hectare masterpiece is the largest private garden in Australia.   It features a cold climate plant nursery, kitchen garden, outdoor cafe (which uses estate-grown produce) and extensive seating and an indoor restaurant and produce store, stocked with locally produced goods, including Mayfield relishes and chutneys.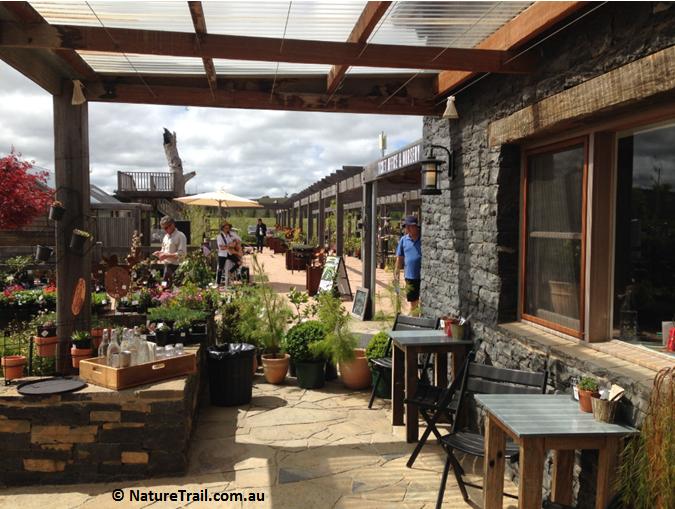 Our guide points out the large outdoor fireplace with marshmallows on standby, and this is all before the garden proper – then hints of what awaits us – the dozens of flower beds in bloom, the lakes (plural), streams, waterfalls, grottos, cascades, an island pagoda, follies and fanciful features of European gardens.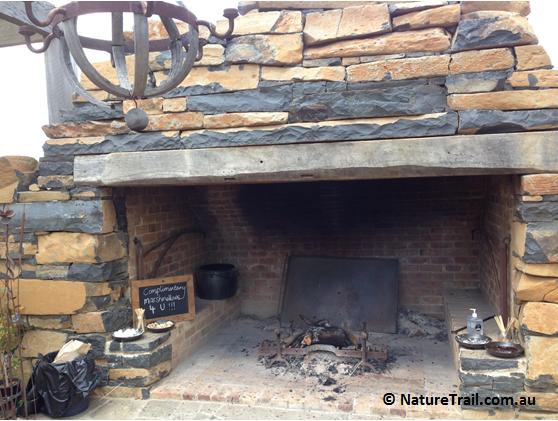 We climb the ancient tree trunk lookout to try to survey the garden.  It stretches for acres and acres.  It seems not a garden, but many gardens.
From Mayfield's entrance, Steve leads us up a stone garden path between massive basalt boulders and through a long planted avenue of what looks like Ironbark.  Neither gives hint to the extensive and majestic exotic gardens beyond.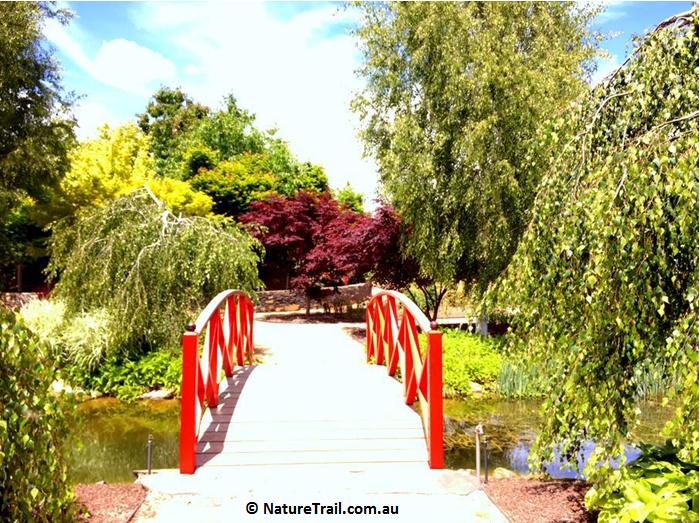 And then we're impressed by a clever illusion that is symbolic of the grand imagination of the man, Mr Hawkins.
Shaded by a backdrop of grand and now nature dense towering cypress hedge, the pathway opens to an imposing Washington D.C. style monument in a 100m diameter circular pond with an imposing obelisk in its centre, replete with formal water jets.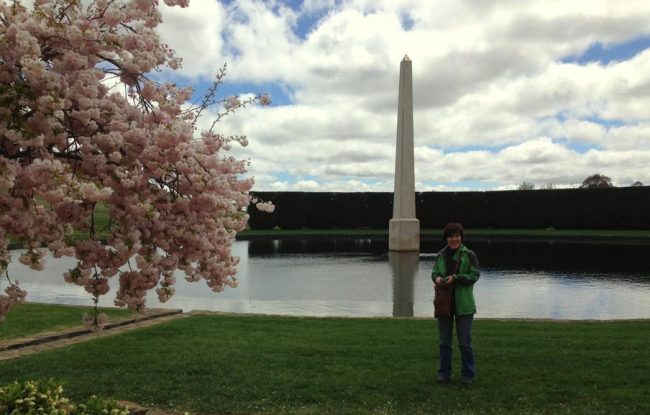 This is a serious garden, indeed gardens plural.  How many gardens have this?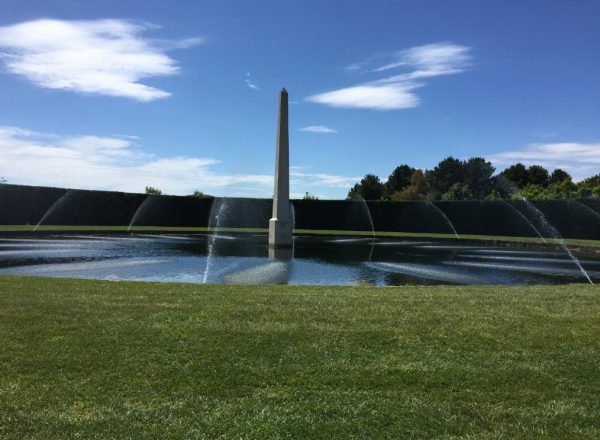 And all hosted by a family of black swans.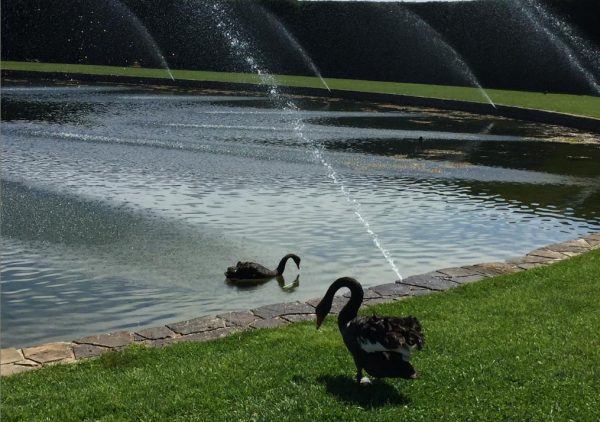 The attention to detail here is truly five-star.  What makes this a stunning achievement is that we are within sight of the rural sheep hills beyond, that is what was once where we are standing.
Then suddenly we seem to be taken back to old colonial Australia, as we pay witness to a run of sheep on the pastoral hill beyond.  The dust rises and it must be some 1000 head charging down the ridge.   The photo does not fully capture the moment of being there, but there they are in the distance, the mob of sheep.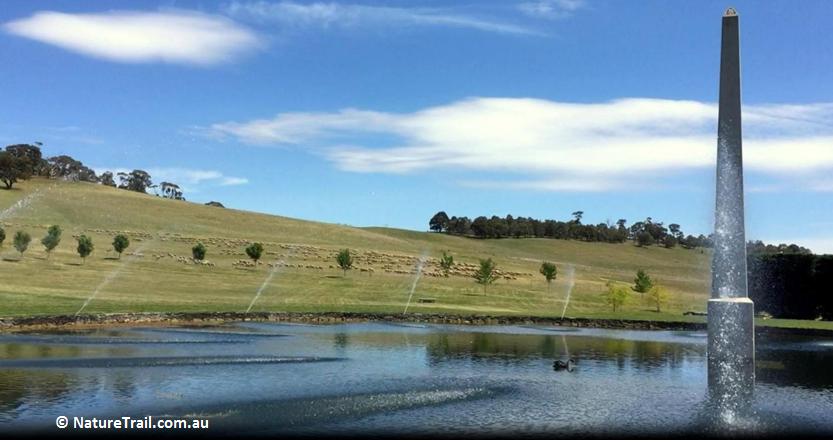 The sight is a spectacle for all of us, reminiscent of a 19th Century scene out of a Tom Roberts' painting.

Steve agrees, "Yes, less the drover".
We head on to the flower gardens..
We appear to have Mayfield Garden practically to ourselves.  The man-made stream leads us to an old-style bluestone bridge and waterfall with lake beyond.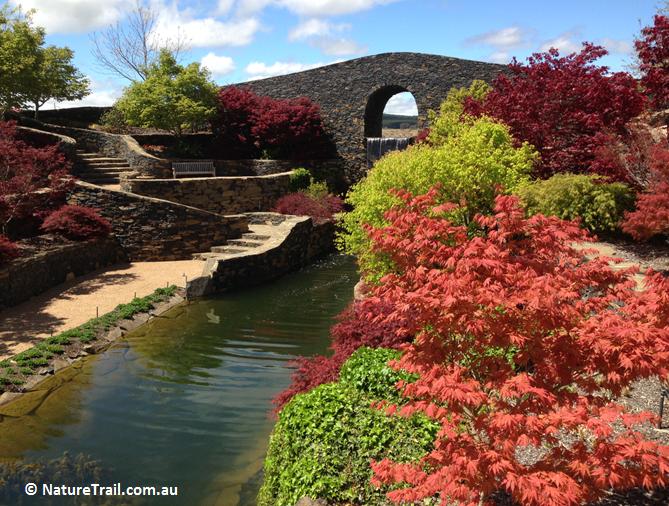 We think it's inspired by the 18th Century Clachan Bridge of Scotland's Isle of Seil, which crosses Clachlan Sound.  It's renowned as 'The Bridge Over the Atlantic' because the sound opens directly to the Atlantic.  Mr Hawkins has obviously travelled widely to be so inspired.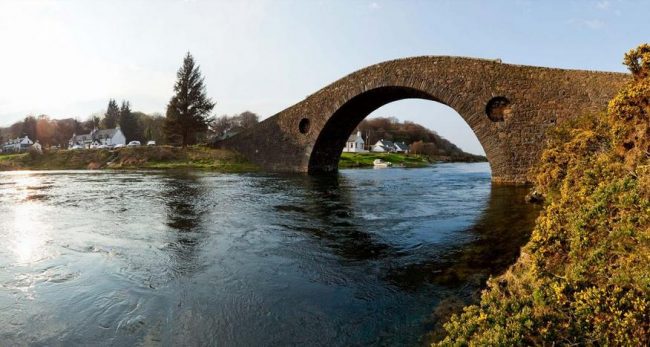 We enter the water garden.  It was inspired by the stone and water features at Longstock Park Water Garden in England.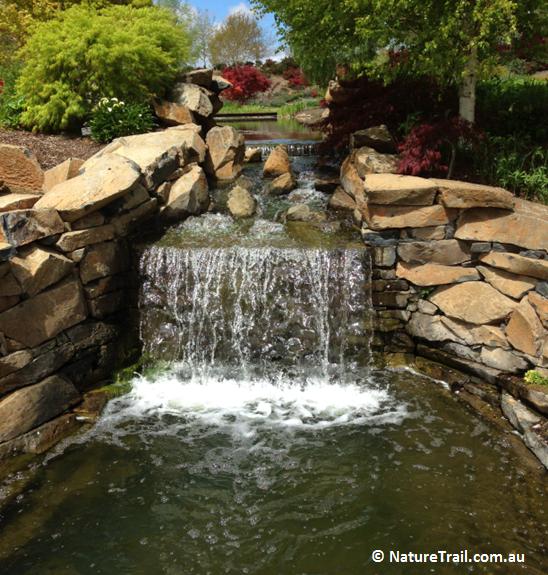 The landscaping and flowerbeds of the water garden are stunning and brilliant in the bright morning sun.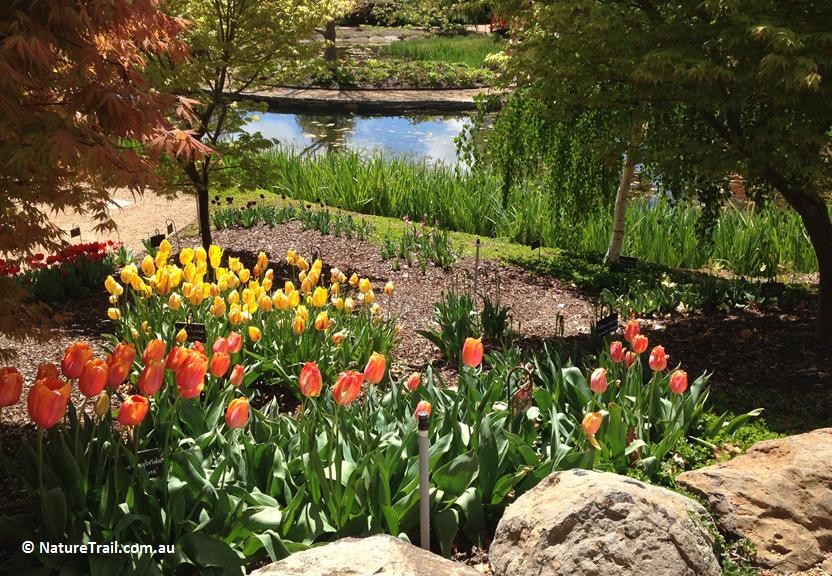 And these 'Queen of the Night' dark purple tulips are just stunning.  The horticulturalist certainly knows his species and it helps when all the flower beds are tastefully labelled.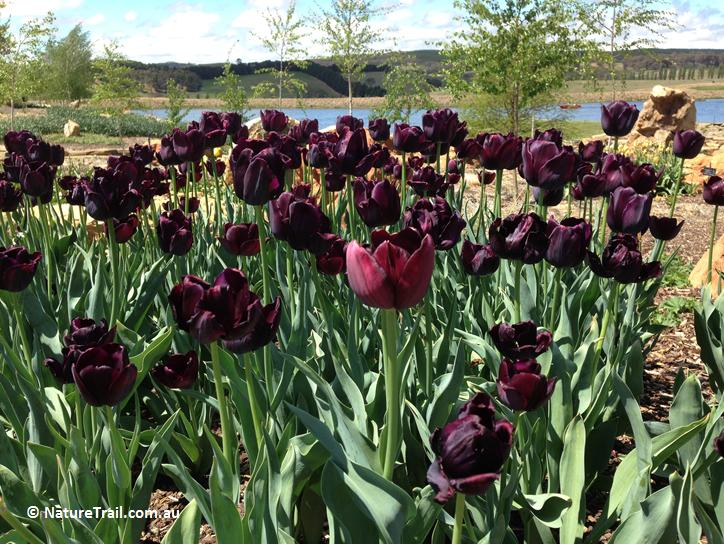 Mr Hawkins aims for the garden to be self-sustaining. Wherever practicable, materials, such as the magnificent blue stone, have been locally sourced and finished by local craftsmen. Even the toilets are immaculately maintained – a lesser topic but no less important.
The stream is framed by Louisiana iris, decorative hosta and water-loving plants. The peach and orange coloured water lilies present as impressionist eye candy.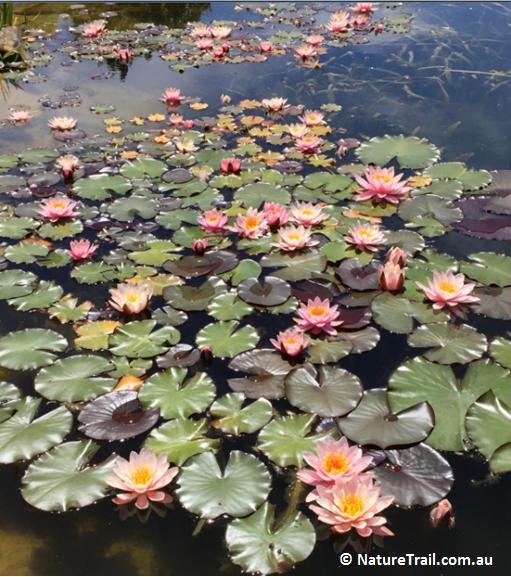 Inspired by Claude Monet perhaps?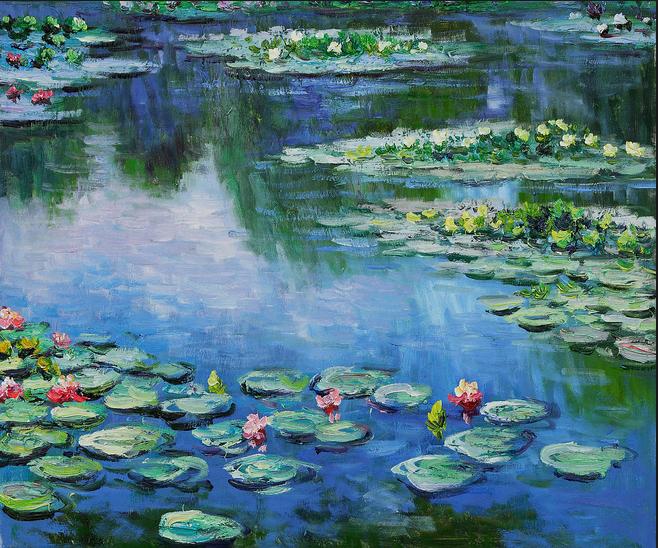 The garden is elevated so we can marvel at the amphitheatre of assorted flower beds in bloom, along the banks of the meandering watercourse with its many timber bridges, and shade trees, not yet fully grown.
It will be a national botanical garden to rival Melbourne's in time.  In fact, Mayfield is estimated to contribute $165 million to the Oberon's economy over the next five years.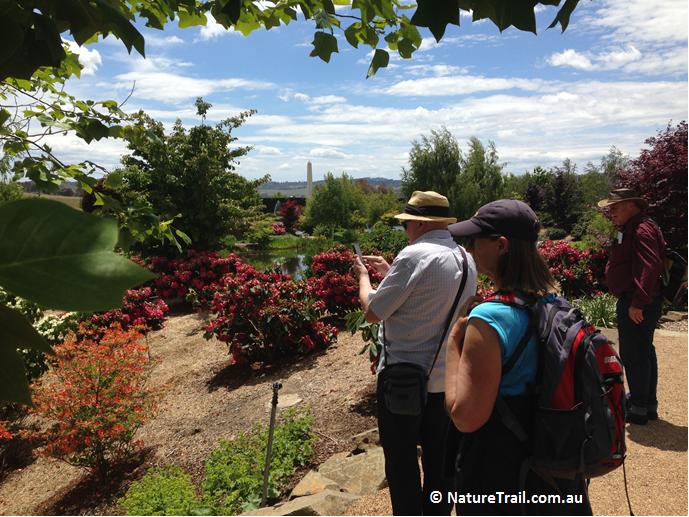 We've worked up an appetite so we grab a bite to eat in the restaurant.  The food is excellent and creative, with the salad fresh from the kitchen garden.  The staff are friendly and attentive.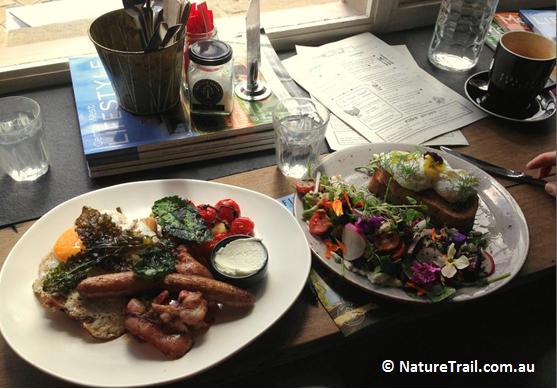 "But wait, there's more", Steve reminds us.
There's the nature pond, The Chapel (which Mr Hawkins had built for his daughter's wedding), Lavender Parterre, the orchard, The Maze, the aviary, the chicken houses, the fernery walk, the Viburnum Walk, the croquet lawn, outdoor chess.  It keeps going and going.  The Gallery modelled on Hartley's courthouse rests at the end of a long avenue of plane trees.  Moss Canyon is under construction.
Wide, winding paths and gracefully curving steps lead through a garden so skilfully landscaped that a different vista brings a surprise at every turn.
Beyond a wisteria arbour we follow the path around another corner to reveal a bespoke Copper Tree Fountain sculpture featuring gentle raindrops, trickling from branch and leaf.
Just glorious, and we could have easily missed this if were not keenly exploring.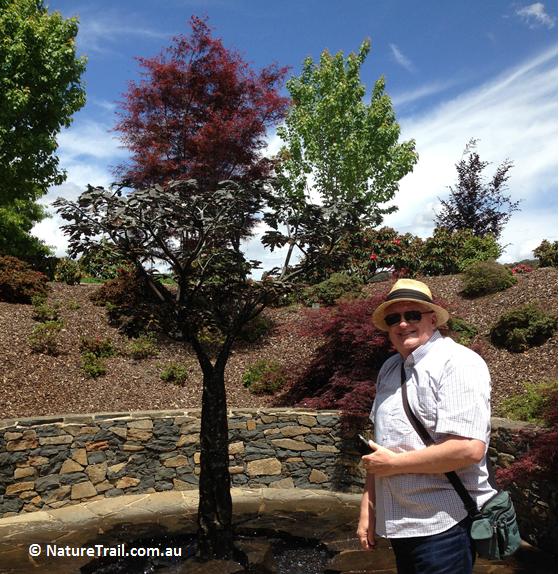 We make our way along the Mayfield Lake boardwalk and around the bend we discover the Grotto, which one can walk into underneath the waterfall into a cool man-made cave.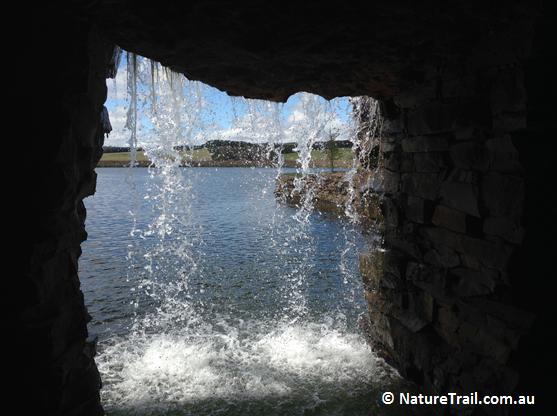 We check our map again, and they tell us that there is a tour bus that can even drive visitors around the gardens because they are so extensive.  And they are still expanding it. The Camelia Walk is under construction and in the distance we can see dozers landscaping more of what was just sheep paddock.
Mr Hawkins employs more than 25 multi-skilled staff under the leadership of manager Hamish Keith, to maintain and continue growing this artistic masterpiece.  Gardening, floral art, craft and kids' workshops are held regularly, and last month many music lovers heard the Macquarie Philharmonia play in Mayfield's natural 500-seat amphitheatre.
But wait, there's more…
There's the Valley of the Ponds, Venus Vale, the Birch Valley, Allée, Sunken Garden Rooms, the Studio, rose beds, a walled garden with espaliered fruit trees, Heath and Heather and around the next corner this.

And then this, an 80 metre cascade flowing down from a temple saturated in a fountain of water.  It's straight out of Caesar's Rome.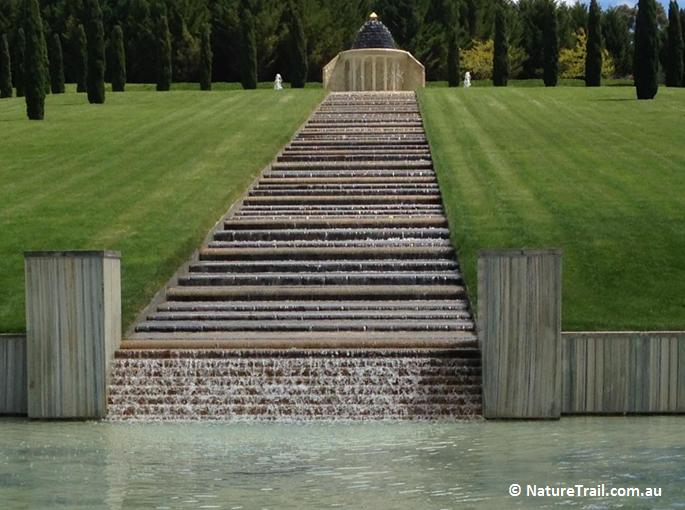 Mr Hawkins, thank you. Mayfield is a rare treasure.  What a treat!  We can spend the entire day here.
We undertake to return in six month's time to witness this special place when in its glorious autumn colour.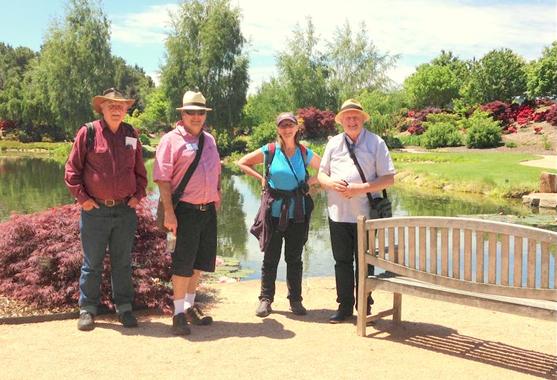 Our personalised tour group – maximum size is just 6.