Secrets of the Megalong and beyond

Grand tour this one, so we get an early start at 7am.  We explore what Shipley Plateau has to offer west of Blackheath, plus the entire length of the Megalong. 'Megalong' is Aboriginal for 'valley under the cliff' – Narrowneck's ancient and magisterial sandstone escarpment. Locals have long balked at the tautology of 'Megalong Valley' – translated to be 'Valley valley'.  Most now are happy to just settle on 'Megalong' – it's God's own country.
There are just three of us – Phillip, Jan and Steve our guide.
Steve drives us to a vantage point in west Blackheath, pointing out the intended route for the day.  The Mountains air is crisp, we have clear skies and no-one is up yet. We're in for a treat.
Steve drives us out to Shipley explaining the eclectic private retreats en route, some local history and stories of lost souls and recent bushfires.
We sample fresh cloudy apple juice sourced from Shipley's Logan Brae orchard. Here for many decades they've harvested Gravensteins, Royal Gala, Fuji, Pink Lady, Granny Smith, Braeburn, Kidd's Orange Red.  No wonder it tastes so good.
Surely a must for every child's lunchbox across the Mountains.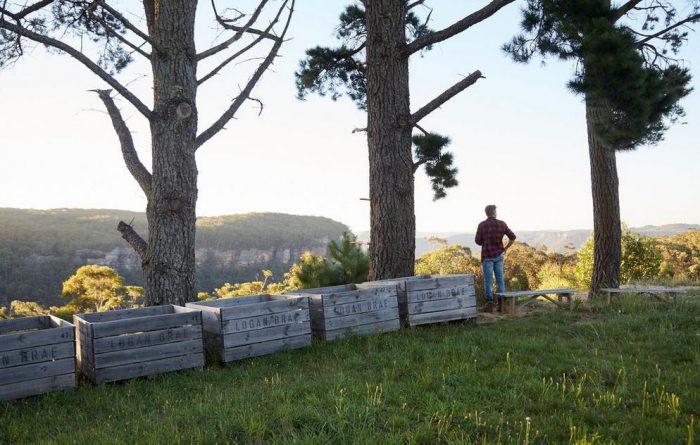 https://www.loganbrae.com.au/
On approach playing Edvard Grieg's Solveig's Song, Steve presents us with a stunning lookout in the morning sun.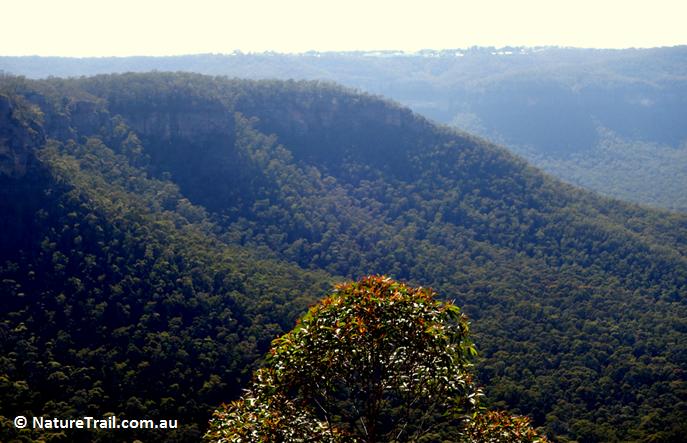 We're served morning tea at the summit, replete with the Derbyshire Denby and ANZAC biscuits.  The view is a spectacular, 270 degrees sunny, quiet and still.
Just us three.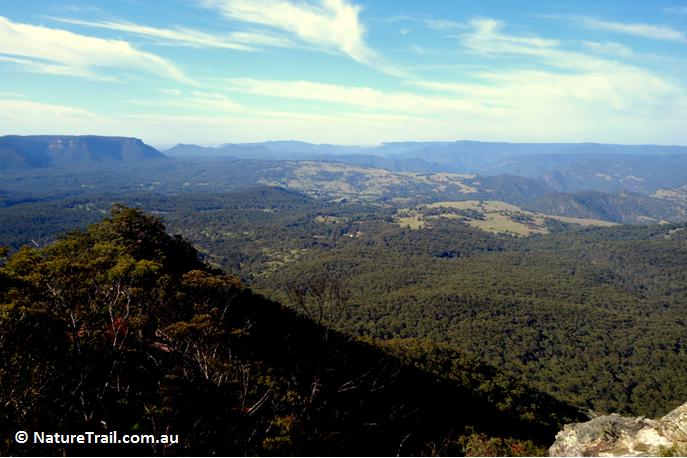 Steve explains the naming of Shipley and Hargraves and the plateau's orchardist background and about Thomas Jones the early explorer of the Megalong.
As we relax and try to get our bearings to Blue Mountains landmarks, a local cyclist rides in and Steve engages in a friendly chat, picking up some local goings on.  We later learn of Shipley stories, dramas and a tragedy or two.  The Mountains here are beautiful, yet at times can be treacherous.
Local volunteer firies and the Blue Mountains Hang Gliding Club would know all out that.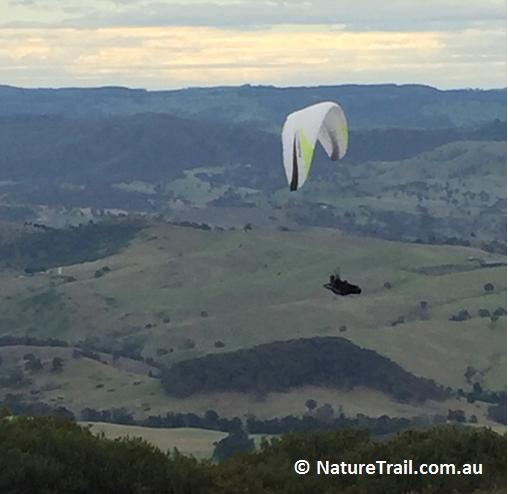 Then we descend into the Megalong through rainforest, safely by car.
Our guide first pulls over to wind open the skylight and we drive through the rainforest able to marvel to the majestic cliffs above.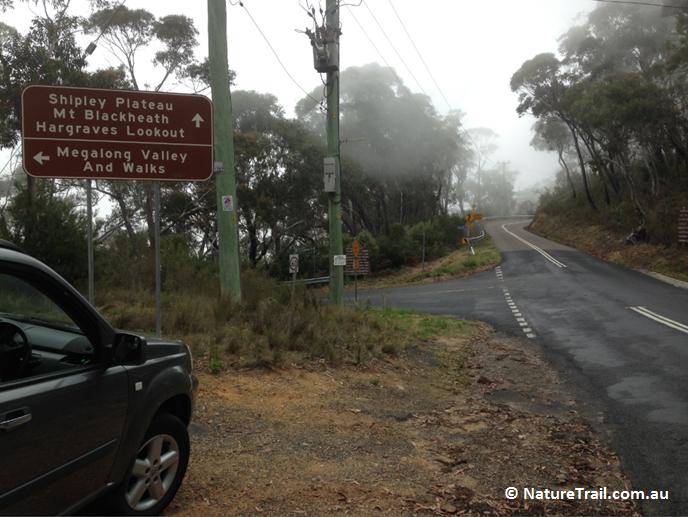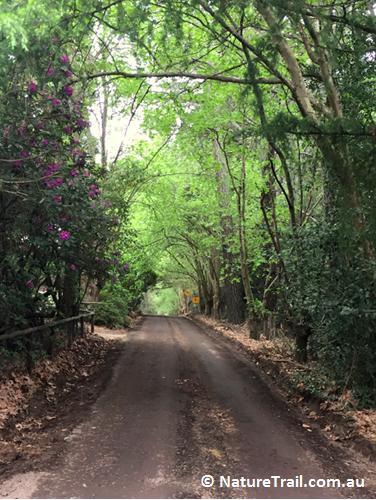 We venture down a 100 year old sandstone staircase through a crevasse into a secret cavern with its own waterfall.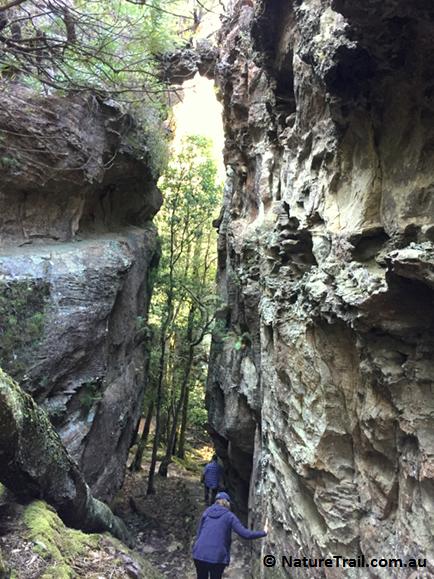 The air is cool and ferns, club moss and weird alien looking plants are everywhere.
Jan later confirms that this is where one of the Mad Max movies was filmed.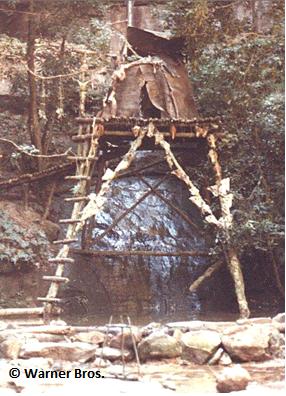 The old growth Coachwood rainforest lets in dim rays of the morning sun.  The trees are huge like this old Eucalyptus Blaxlandii.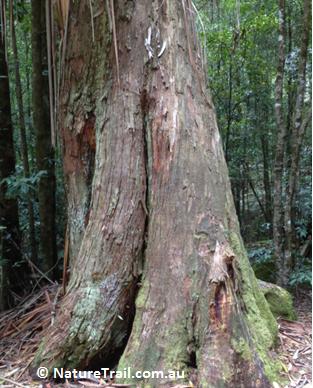 And the flowering gums further down in the Megalong are in full bloom.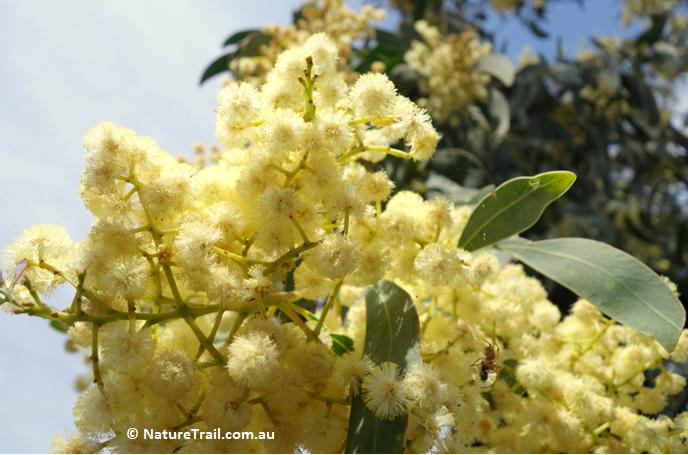 We then call into the famous Tea Rooms, a traditional rustic cafe on an acre with farmland surrounding.  The inside is log-fired roasty in winter, but most visitors through the warmer months enjoy the outdoor picnic table style 'alfresco' mixing it with the wild birdlife in the shade, watching the cows and kangaroos over the fence.
This community focus point has been recently revamped by new owner Simon Smith.  The chicken and salad baguette sandwiches with local onion jam are a specialty.  Offering quality tasty local country fare and friendly service, Nature Trail recommends the Megalong Valley Tea Rooms as a worthwhile stop on anyone's journey through.
They do a classic ploughman's lunch, gourmet homemade pies and all day hearty breakfast options.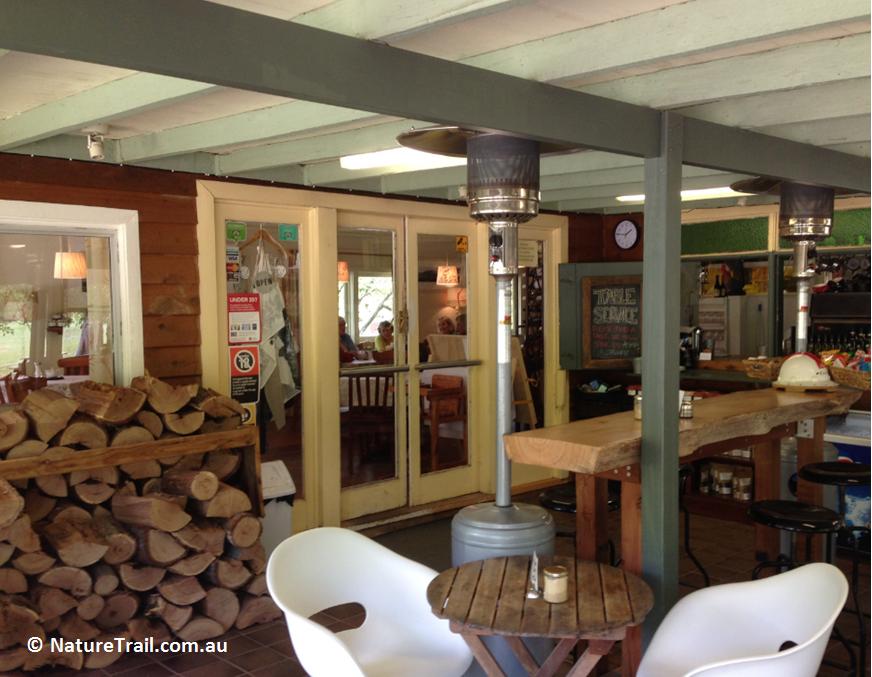 The Megalong's native Choughs are renowned for polishing up leftovers, as soon as visitors leave their outside table.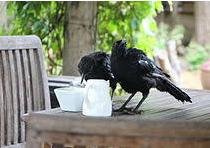 We proceed south through the Megalong approximating the trail first taken in 1818 by English natural historian Thomas Jones, then followed by colonial pastoralists and then the shale miners to the valley.
To the Aborigines this this very enclosed valley was for millennia traditional wooded hunting ground for mobs of kangaroo and dingo.  For subsequent colonial pioneers of the 19th Century, it was exploited for timber, then cattle grazing and briefly mined for kerosene shale.
As we continue southward on Megalong Road, there are remnant ruins of this rich colonial time.  The histories remain little told and in most cases teetering as oral memory with descendant locals.
Moreso these days, horse riding, tourist accommodation and generous rural residential have supplant the Megalong's pastoral past. A big white bus in front of us turns into one such mass tourist cabin facility.
We continue on south crossing Cox's Ford and the 100 year-old Six Foot Track and by two local churches of yesteryear.  A church is always a symbol of a thriving community.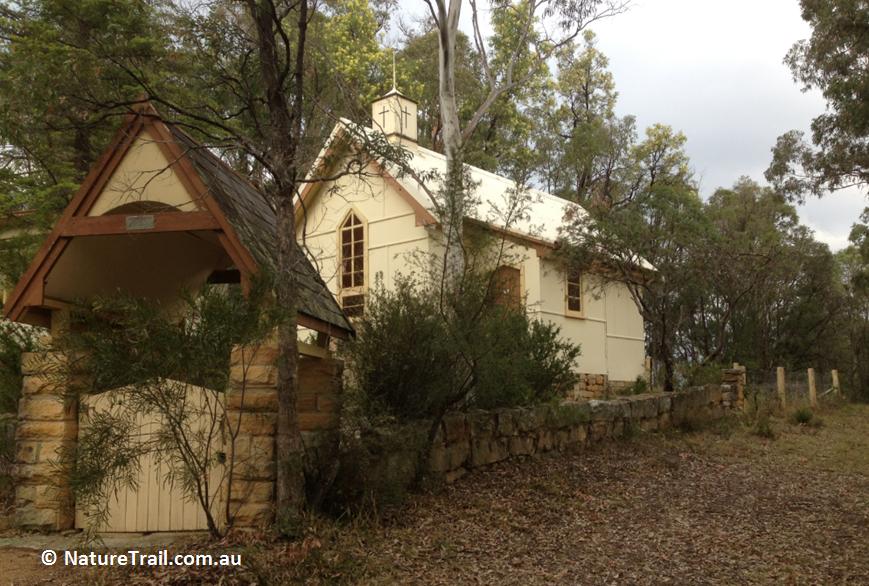 The remaining road narrows south-toward to Megalong's end through remote private property at a saddle at the head of the valley like entering a caldera.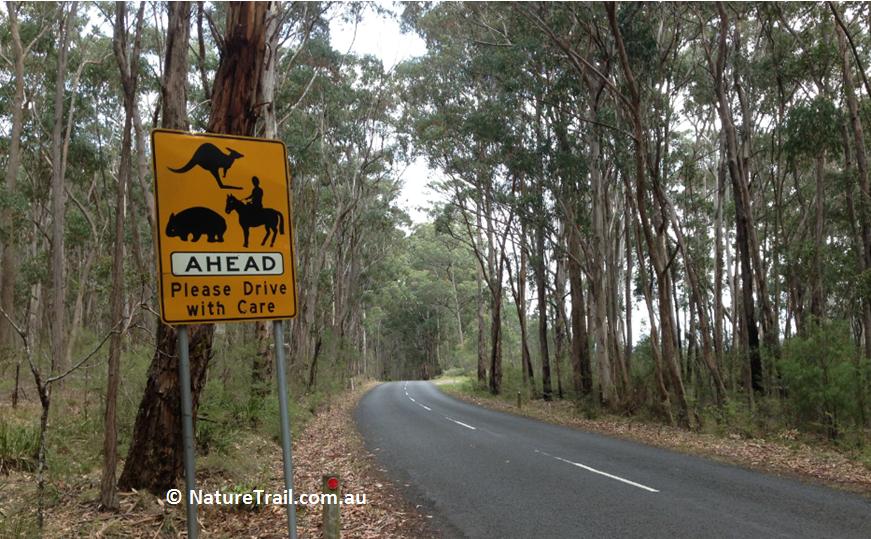 We pass by a number of horse-riding ranches – Werriberri Trail Rides, Euroka Horse Riding and Agistment, Blue Mountains Horse Riding, and Megalong Valley Farm.
It's Phillip's turn to open and close one of the farm private property gates, less the Akubra.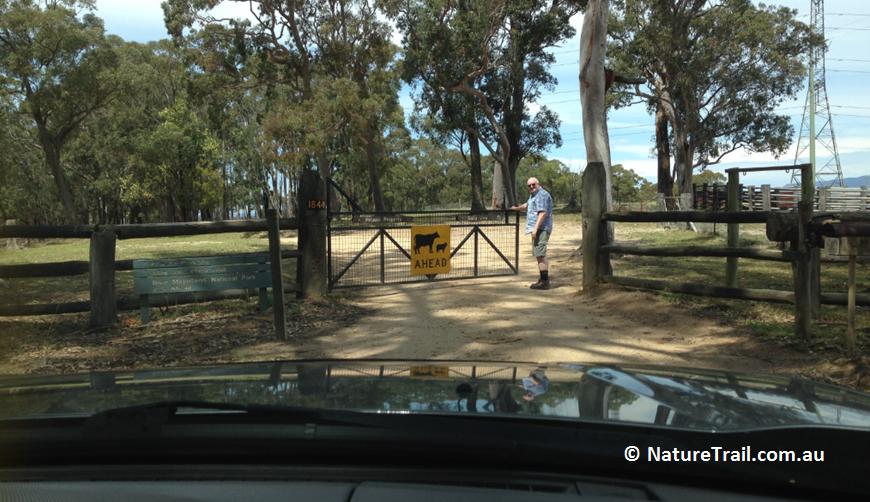 The weather darkens as we distance ourselves from the well-warn track.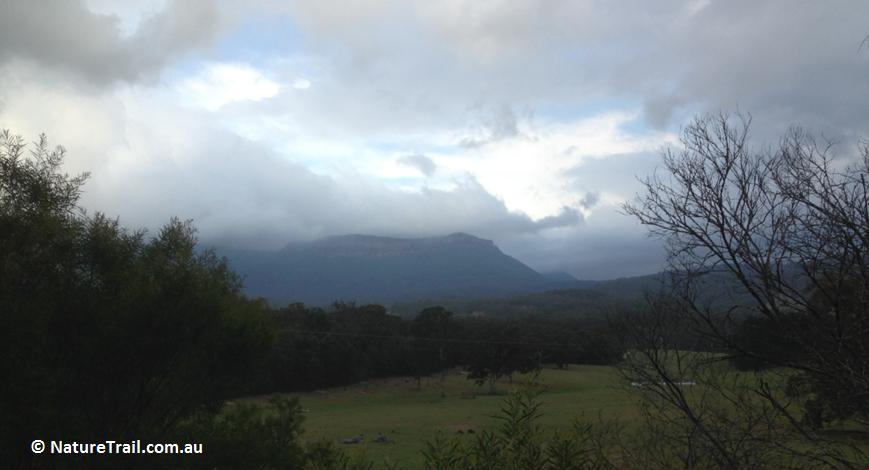 The sealed road becomes a gravel track and becomes narrow and windy as we make our way down into the historic Green Gully.
Green Gully has been pastoral since 19th Century timber getting and cattle grazing.  The steep creek gully is noticeably littered with a hundred years of cattle-manure rich grass, blackberry and nettles originally from Ireland. The road is now an old farm track and it could indeed be a slice of Ireland.
Our guide is on to it and plays Enya's 1992 album 'Iona the Book of Kells' track 'John – The Eagle'.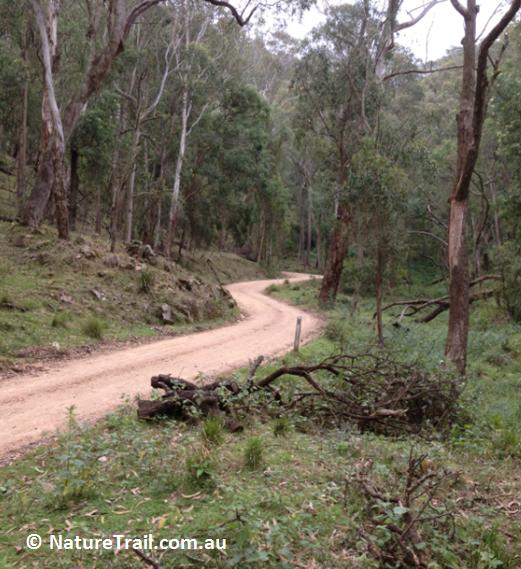 It feels truly a timeless place that we enter.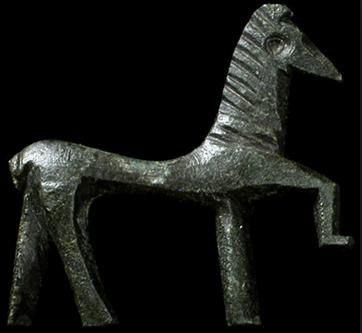 We arrive at the last private road gate to Green Gully, the entrance to historic Carlon Farm at the very south head of Megalong and there's a lot of history associated with this precinct.
Having bushwalked the Blue Mountains since 1994 and lived here since 2001, Steve had always wanted to get back to Green Gully.   He recalls horse-riding there in the late 1990s at the legendary Packsaddlers run by the heritage Carlon Family.
Carlon is of ancient Irish heritage from the Gaelic clan O'Caireallain with ancestral origins to County Donegal.
Packsaddlers was started by Bert and Norma Carlon in 1960, two generations ago. During their more than forty years in business, the Carlons earned a reputation as the premier horse riding establishment in the Megalong, generating loyal repeat business and lifetime friendships.
Fourth generation descendant Linda Carlon posts her message to tourists at her farm gate just so visitors realise that their access to the state government's National Park trespasses through her family's heritage pastoral property.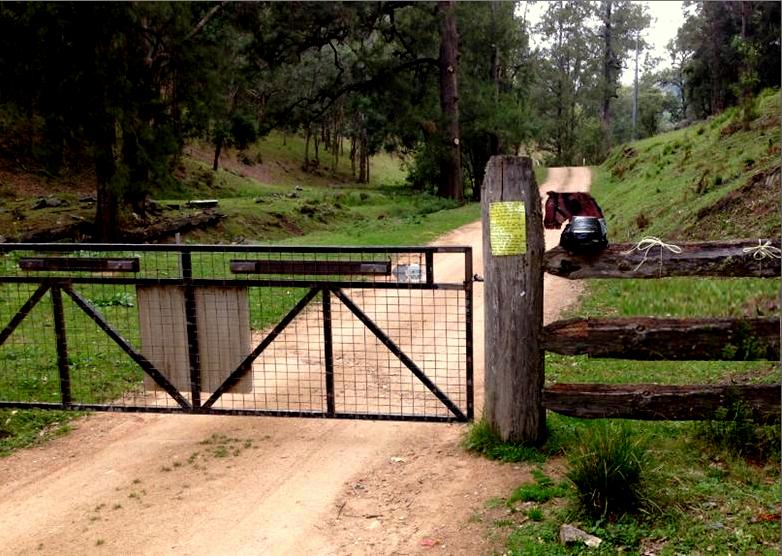 Our group contributes a trespass levy out of respect.
Packsaddlers has always been a family business with all the children and later, grandchildren involved.   In 2011, granddaughters Linda and Brianna Carlon re-started their family's horse-riding business offering 1, 2 and 3 hr rides for small, personalised groups.
'Personalised' is of course what Nature Trail is all about, and so we celebrate Linda and Brianna's family entrepreneurial spirit.  Steve is passionate about his country background, ancestral British Isles farming heritage and his personal cattle mustering training in his 20s.
We note the Carlon's original 19th Century homestead in disrepair.  We slowly drive up the farm road to an increasingly obvious head of the Megalong.  The sign at the top indicates that we are at the brink of the Wild Dog Mountains beyond.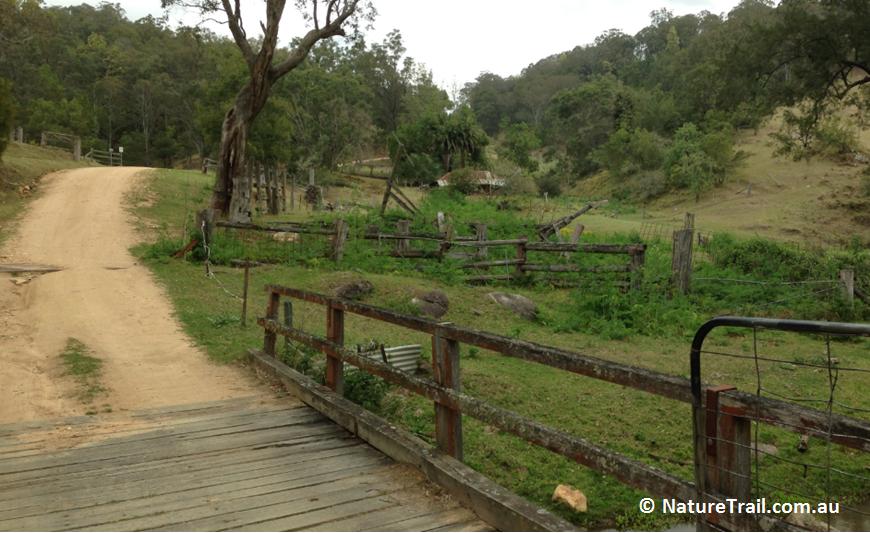 So, onward to our wild destination we proceed, parking at Dunphy's Camping Ground, named after the legendary Australian exploratory bushwalker, conservationist and architect Myles Joseph Dunphy (1891-1985).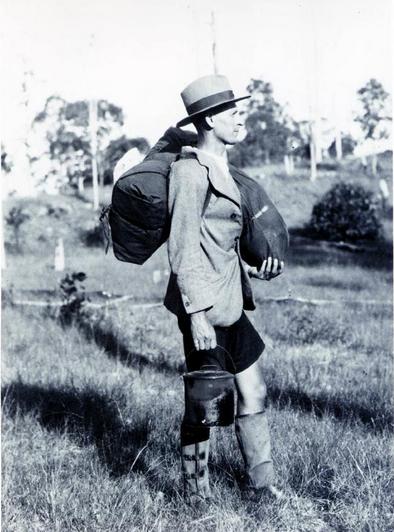 There is a tame mob of Swamp Wallabies grazing on the camping ground.

Our final trek commences onward and upward. Good fitness and water and salt rations were mandatory for this tour leg. A 200m elevation up a ridge, reminiscent of club bushwalking days.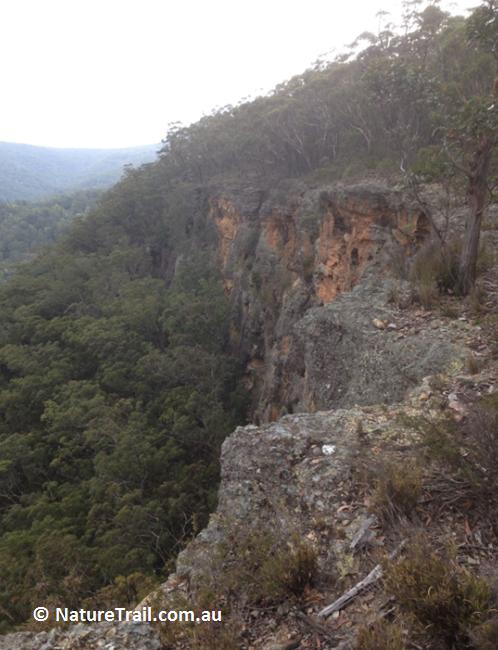 A Lace Monitor by chance.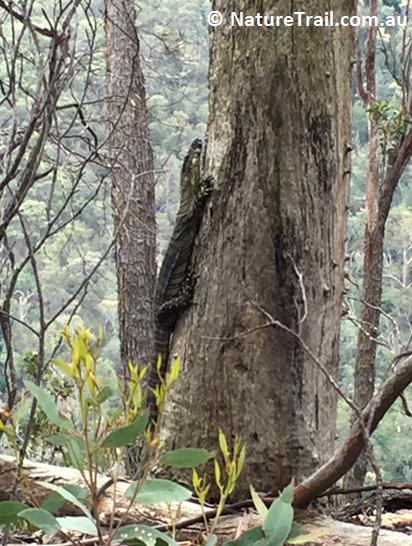 And we reach ultimate wilderness.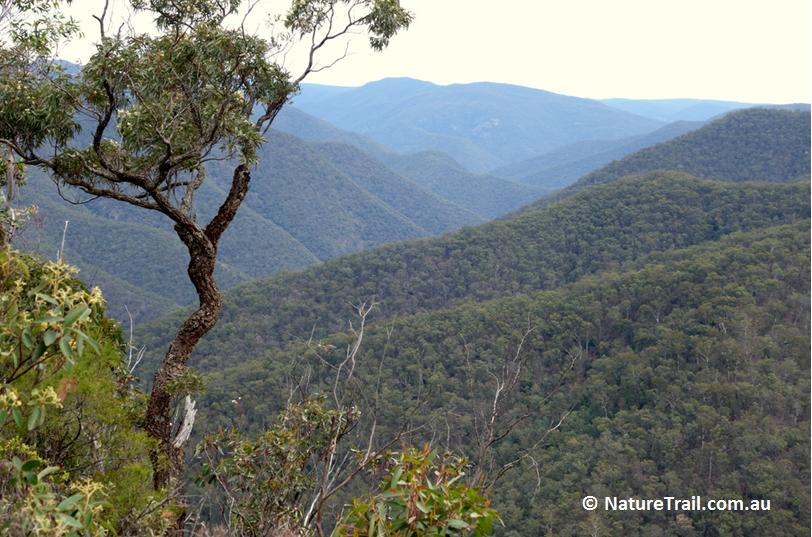 Beyond in the blue haze beyond the might Cox River gorge are the High Gangerangs – Mount Cloudmaker and Mount Guouagang – home of wombats, grey kangaroos and swamp wallabies.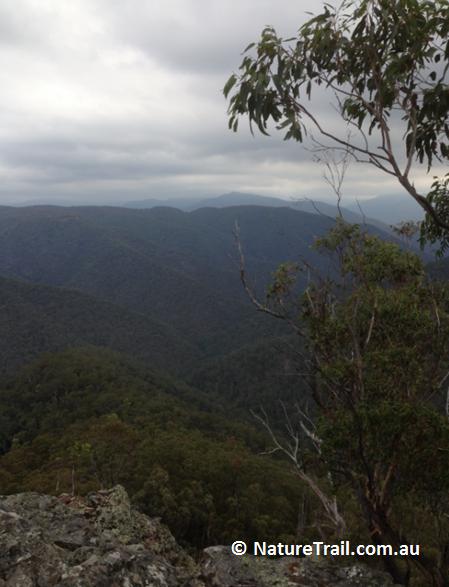 Phillip and Jan at the lookout summit.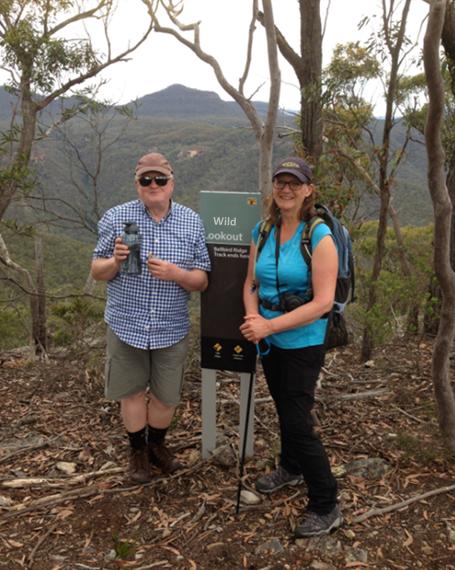 That we did this all this in a day still remains amazing.